Stromata
|
home
Torcon 3 (61st Worldcon), August 2003 (4)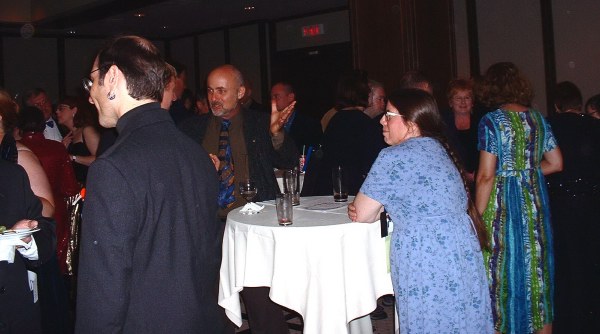 If I were a more skilled photographer with fancier equipment, I would be able to present many excellent pictures of the Hugo nominees' reception. This one at least gives a notion of the social interaction among prospective winners and their guests.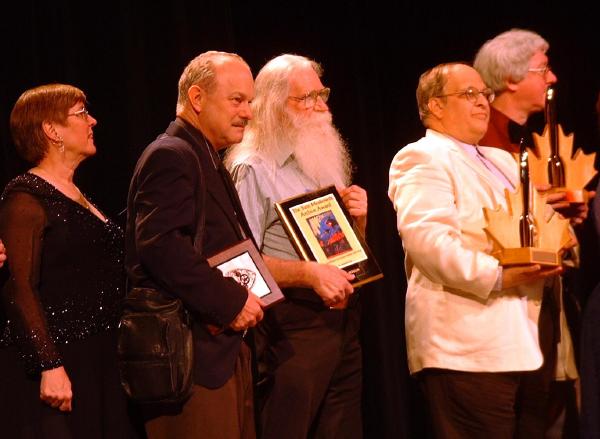 Award winners and acceptors: Gay and Joe Haldeman, Rusty Hevelin (with his Sam Moskowitz Archive Award), Craig Miller (with The Two Towers' Hugo (accepted by the director via video presentation)) and Dave Langford with the first Hugo that he has ever accepted in person in North America. (No, he didn't call Martin Hoare in the middle of the night to notify him.)
| | |
| --- | --- |
| | |
| Hugo Award co-administrator Michael Nelson unveils this year's Hugo design at the nominees' reception. In honor of the 50th presentation of the Hugo Awards, the rockets were gold-plated. | Dave Langford chats with Minneapolis in 1973 bid chairman Geri Sullivan at the reception. The time traveling '73 bid hosted the con's "Dead Beaver" party on Monday night. Torcon's Fan GoH Mike Glyer is barely visible in the background. |
The First Fandom display, highlighting Hall of Fame members. This year's inductee was Philip José Farmer. A posthumous award was given to Philip F. Nowlan. First Fandom also presented the Sam Moskowitz Archive Award (for SF collecting) to Rusty Hevelin and the E. Everett Evans "Big Heart" Award to John Hertz.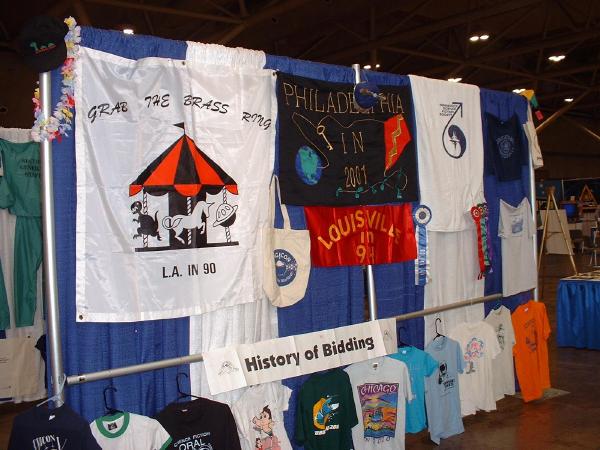 Fanac, Inc.
(sponsoring organization of the 1992 Worldcon, now dedicated to the preservation and dissemination of fannish history) displays, among much else, memorabilia of Worldcon bids from the past.
Also from the Fanac display: past Worldcon progress reports, program books and miscellaneous publications.