Stromata
|
home
ConJosé (60th Worldcon), August 2002 (3)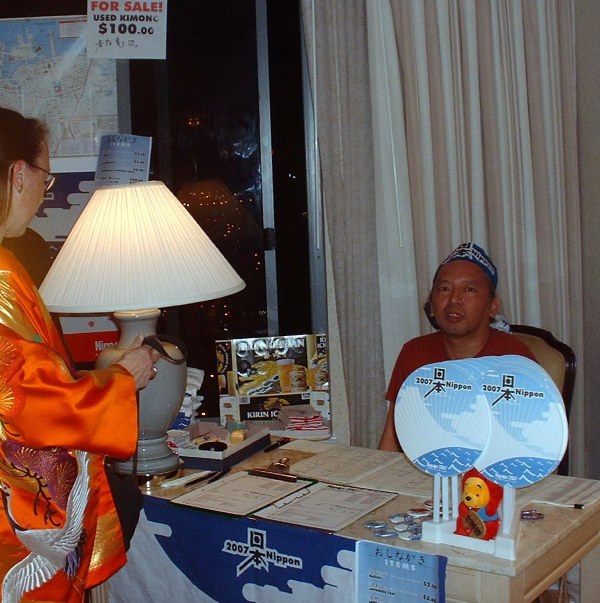 Nippon in 2007 is bidding to bring the Worldcon to Asia for the first time. Their party had information about their newly selected venue, as well as a wide assortment of Japanese delicacies (thoughtfully labeled for the benefit of Western barbarians). The competition is a bid for rather less exotic Columbus, Ohio.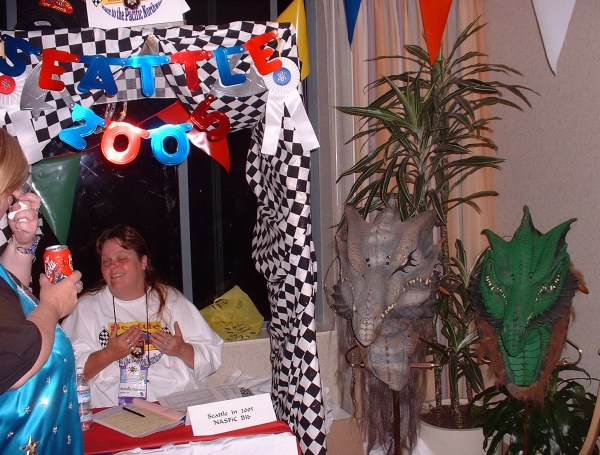 Since the 2005 Worldcon will be held outside North America, there will be an election next year to choose the site of the 2005 North American Science Fiction Convention ("NASFiC"). Announced candidates are Seattle and Charlotte. Here is Bobbie DuFault, chairman of the Seattle bid, exhorting a potential voter. Party security dragons are to the right.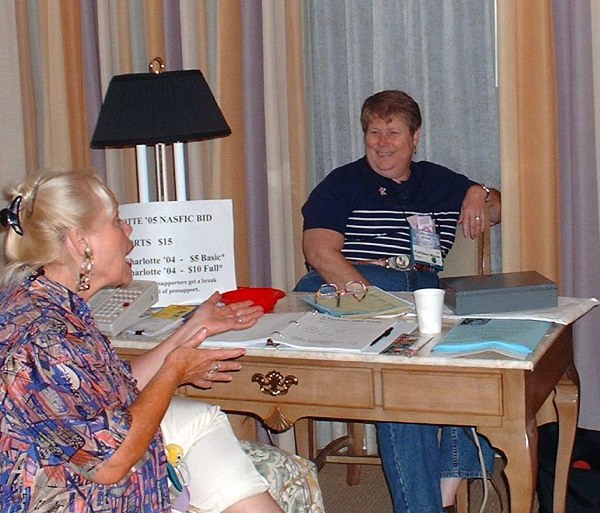 Kathleen Meyer, chairman of the Charlotte in '05 NASFiC bid, looks relaxed at her bid party.
| | |
| --- | --- |
| | |
| Pat Sims, this year's highly deserving Big Heart Award winner, displays her decoration. | Teddy Harvia (a/k/a "David Thayer"), voted Best Fan Artist, shows off this year's Hugo rocket. |
Alex von Thorn is a division head at Torcon 3, but he can't tear himself away from bidding. Here he ladles blog (the original, not the Web kind) at a Seattle in '05 NASFiC bid party.

jan howard finder models one of the first "Let's Do It Again - Melbourne in '10" t-shirts. The AussieCon 4 bid took off at ConJosé - whether Aussie fandom is ready or not!