Projects
Page 3
This page describes more of the projects that may be of interest to DLDC readers.
"e-Learning and
Pedagogy Programme
The Joint Information Systems Committee (JISC) is funded by the UK HE and FE funding bodies to provide world-class leadership in the innovative use of ICT to support education and research. JISC funds a national services portfolio (e.g. JANET) and a range of programmes (e.g. Use of Technology to Support Admissions to HE) and projects (e.g. Google Generation project).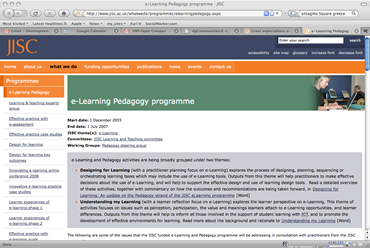 One programme of particular interest is the e-Learning and Pedagogy Programme. Its activities are broadly grouped under two themes:
Designing for Learning (with a practitioner planning focus on e-Learning) explores the process of designing, planning, sequencing or orchestrating learning tasks which may include the use of e-Learning tools. Outputs from this theme will help practitioners to make effective decisions about the use of e-Learning, and will help to support the effective design and use of learning design tools. Read a detailed overview of these activities, together with commentary on how the outcomes and recommendations are being taken forward, in Designing for Learning: An update on the Pedagogy strand of the JISC eLearning programme [Word]
Understanding my Learning (with a learner reflection focus on e-Learning) explores the learner perspective on e-Learning. This theme of activities focuses on issues such as perception, participation, the value and meanings learners attach to e-Learning opportunities, and learner differences. Outputs from this theme will help to inform all those involved in the support of student learning with ICT, and to promote the development of effective environments for learning. Read more about the background and rationale to Understanding my Learning [Word]
"Compendium on Impact
Assessment of ICT4D
Billions of dollars thoughout the world are invested each year by the public, NGO and private sectors in information and communication technologies for development (ICT4D) projects such as telecentres, village phone schemes, e-health and e-education projects, e-government kiosks, etc. We all feel that these are good things, and yet we have very little sense of the effect of that investment. I know of some that failed because they were too "top-down". I know of others that were a resounding success (e.g., e-Bario) because they used a community development perspective from the start. But these anecdotes do not satisfy funders or governments. Put simply, there is far too little impact assessment of ICT4D projects.
In part that reflects a lack of political will and motivation. But in part it also reflects a lack of knowledge about how to undertake impact assessment of ICT4D. The "Compendium on Impact Assessment of ICT-for-Development Projects" by Richard Heeks and Alemayehu Molla, IDRC & CRDI, 2008, aims to address that lack of knowledge.
"It presents a set of frameworks that can be used by ICT4D practitioners, policy-makers and consultants to understand the impact of informatics initiatives in developing countries.
The Compendium is arranged into three parts:
Overview – explains the basis for understanding impact assessment of ICT4D projects, and the different assessment frameworks that can be used.
Frameworks – summarises a series of impact assessment frameworks, each one drawing from a different perspective.
Bibliography – a tabular summary of real-world examples of ICT4D impact assessment."
Citation details:
Heeks, R. & Molla, A. (2008). Compendium on Impact Assessment of ICT-for-Development Projects. Manchester: IDRC. Retrieved January 09, 2009 from http://idrc-ia-for-ict4d-compendium.doc
Solar-powered Linux computer
networks for remote villages
Original article by Robin 'Roblimo' Miller on November 04, 2008 (7:00:00 PM)
Scott Johnson of GNUveau Networks has developed a solar-powered Internet "hub" system (running Ubuntu GNU/Linux) that he builds to order in his Florida home.
Here is a video about his solar powered system.
His objective is to bring computers and the Internet to places that have no connectivity, no phone service, and no electricity. SolarNetOne installations are running in Africa right now, providing wireless connectivity and "Internet Cafe" access to hundreds of people. The system uses off-the-shelf hardware that Scott modifies to run on 12V -- and to use a lot less power than the stock versions.