The Car Guy of Benchfield
What's a "KISS"?
by Jan Bazen, TCGOB Staff
I could not even begin to relate to Steve Wingate's
recent article
on growing up listening to the rock group KISS. When I grew up kiss was something you may or may not do on a first date, or something you tried to sneak while no one was looking or something you wished you could do to your teen idol.
While Steve was rocking to the music of Kiss growing up, as the Barbara Mandrel song goes "I Was Country, When Country Wasn't Cool". I was raised on the country music sounds of Willie Nelson (did you know he once had short hair and didn't sport a bandana?), Loretta Lynn, Johnny Cash, Merle Haggard, George Jones, Patsy Cline, and Tammy Wynette. My idea of a fun concert was Willie and Waylon Jennings, the Oakridge Boys, Kenny Rogers and Dottie West, Merle Haggard or the ole silver fox Charlie Rich. A big night on the town had to include Texas two-stepping and dancing to Cotton-Eyed Joe long before those dances and line dancing became a national fad.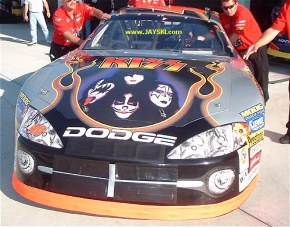 images courtesy of Jayski
One of my favorite paint schemes is the #40 Brooks and Dunn (how is it that Marlin always gets the cool paint schemes?). I love nothing better than to hear any of the country music stars sing "God Bless America" or "The Star Spangled Banner." I don't know anyone that doesn't get chills listening to Lee Greenwood sing "God Bless the USA."
So in keeping within Steve's idea of relating song titles to NASCAR, I've come up with a few of my own. Now remember folks, this is all done in the spirit of fun, no serious bashing is intended.
"Take This Job and Shove It!" (Johnny Paycheck) - Jeremy Mayfield
"I'm the Only Hell My Mama Ever Raised" (David Allan Coe) - Dale Earnhardt, Jr.
"Ghost Riders In the Sky" (Johnny Cash)-Blaise Alexander, Dale Earnhardt, Sr., Adam Petty,
Kenny Irwin, Tony Roper, Neil Bonnet, Alan Kulwicki, and all the other late drivers of NASCAR.
"Ramblin' Fever" - (Merle Haggard) - Jimmy Spencer
"Mama He's Crazy" (the Judds) - D.W, Michael Waltrip, and Jeff Hammond
"I Don't Need Your Rockin' Chair" (George Jones)-Ricky Craven at Martinsville
"The Legend and the Man" (Conway Twitty) - Dale Earnhardt, Sr.
"Everytime Two Fools Collide" (Kenny Rogers/Dottie West) - Rusty Wallace & Ricky Rudd
"It's Been a Great Afternoon" (Merle Haggard) - Bill Elliott at Homestead
"Working Class Hero"(Alan Jackson) - Richard Petty
"If We're Not Back In Love by Monday" (Merle Haggard) - Tony Stewart, NASCAR & the media
"The Gambler" (Kenny Rogers)- Kevin Harvick
"Ain't Going Down Till the Sun Comes Up" (Garth Brooks) - Ricky Rudd
"Rockin' With the Rhythm of the Rain" (the Judds)- Sterling Marlin at Michigan International in August
"Georgia On My Mind" (Willie Nelson)-Jeff Gordon
"Family Tradition" (Hank Williams, Jr)-Michael, Kenny and Rusty Wallace
"Blue Eyes Crying In the Rain" (Willie Nelson)- My husband and I at Martinsville
"You're the Reason Our Kids are Ugly" (Conway Twitty/Loretta Lynn)- ???
Oh, no....you won't even get me to go there. Fill that one in yourself and e-mail me with your song suggestions. And if anyone can find a song about the big, brown truck....please send it to me!
Until next time!
Jan is an RN who lives on the North Carolina coast with her husband, three children and her dog. When not watching or reading about NASCAR, she enjoys fishing...any kind of fishing. She also enjoys gardening and reading. Although Jan is new to the sport of NASCAR, she was exposed to NASCAR from the early, tender age of 5 by her older brother, Fred, who has always been a diehard NASCAR fan. Jan welcomes any comments or opposing views. You can contact her by clicking on the North Carolina tag above.
2001 Car Guy of Benchfield