The Car Guy of Benchfield

Reader's Rides
1984 Trans Am


UPDATED!


owned by Steve Wingate, TCGOB Webmaster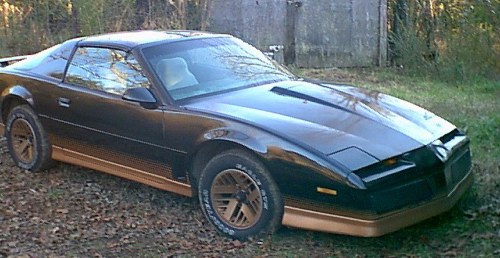 A dream realized at last....

I bought this car on July 20th, 2002 from a friend and co-worker. He had been trying to sell it to me for nearly three years, and I had been trying to save the money for it for just as long. Finally, he made me an offer I could afford and I took delivery of the car. I've wanted an f-body car since I was 13 years old, and now, twenty years later, I've got one. It currently doesn't run due to ther fact that it has been sitting for two years, but I am working (albeit slowly) on getting back in fighting shape again. It of course needs a new battery, an oil change, and some carb work. The body is in moderate shape for a car of it's age, but it is missing a few of the standard Trans Am decals, such as the "nosebird", the "sailbirds" and the Trans Am logos the front quarter panels.

The restoration of my T/A will be an ongoing thing, and I'll try to publish the breakthroughs here in the weeks to come.


2002 Car Guy of Benchfield