The Car Guy of Benchfield


Unbelievable! Con man trying to push modified C3 Vette as one of the original "Mako Shark II" concept cars!
Read on...
These pictures arrived in my mailbox a few weeks back. They were sent to me by a German man who was very interested in owning a Corvette, and wanted me to verify the authenticity of this vehicle. I knew (even though I am no expert) immediately the car was a fake... just looking at the rear end told me that. The car is obviously an 80-82 model. (It could have been a 78 or 79 with the optional spoiler.) And nobody, no matter how crass or uncultured they may be, would dare put after-market wheels on a rare concept Vette.
Here's a few other problems revealed in the pictures.....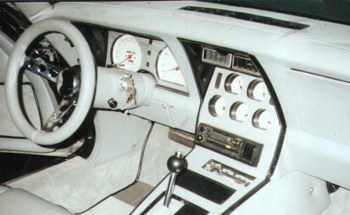 This is quite obviously a dash out of a late C3 Vette. Notice the flat gauges, the shift knob and the after-market stereo. After-market stereo... now there's a good one. Hey! Let's take our priceless Corvette concept car down to the local TRex Car Audio and let a surly 19 year old technician hack a hole in the center console!
Here's what the rear-end of the actual Mako II is supposed to look like...
... that's a far cry from this:
I do have to admit that they did a pretty good job on the nose of the Fako Mako:
Here's a shot of the real thing:
If the seller of this car was presenting it as a modified Vette, I would have no problem with it. (Even though I loathe the thought of ruining any Corvette like this by slapping on a lot of phony body cladding and other cretinous after market add-ons.) It just really gets to me when someone lies about what they're selling. The most laughable part of this whole thing is the seller's asking price-- 25,000 Euro. (About 25K USD) If rare Vette concepts were just 25K, I'd own several by now. And furthermore, 25K is WAY too much for a C3 Vette in the first place. You rarely see the late C3 Vettes for any more than 8 to 13K. If the person trying to sell this car is reading this, I just have to say: "Stop lying and cut your price in half!"
2002 Car Guy of Benchfield