Travels With Turtle
Well its that time of year again. So dust off the travailing gear & hit the road. Travails with Turtle will take you there & hopefully inspire you to go eat some bugs yourself.
Buck Meadows 2000
Brought to you by The 3RD Legacy M/C & NCA
I started latter than I wanted. I had to get my workers paid & organized so I could leave.
Once on the road things went well. Just a little hang up on 580 & 205. Traffic was heavy with others trying to get a jump on the week end. I didn't have the problems I had last year & only took 4 hours to get there. We stopped about every hour to rest our butts, have a smoke
(yes, I'm still an addict) get gas & so fourth.
Buck Meadows is located in the forest near Yosemite. It is nice country with a varied landscape. Part of which had been burned out this year and was starkly beautiful in a post holocaust sort of way. The living Gold Rush town of Groveland is on the way to the camp site complete with a 150 year old bar still operating and serving Sasperella.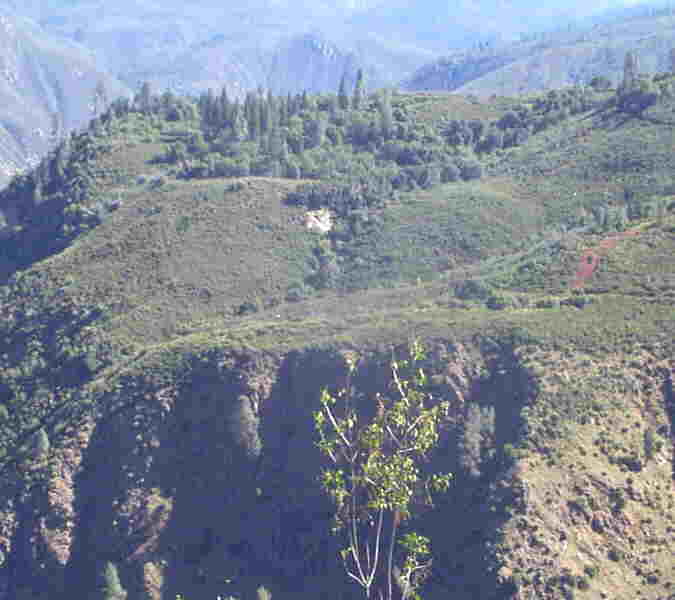 After dropping the wife off at the Riverside Inn I proceeded to the camp grounds to check in. As was the case last year. It was a painless operation. Everyone was friendly & helpful. Coffee & "Road Kill" were ready for those of us who were in need of fuel. After some catching up with old friends & meeting new people. I picked up Penny at the Inn and we had dinner at the Buck Meadows Resort Inn. Penny told me that her Trout was the best she'd ever had and was cooked just right. A little TV, a little loven' and a good nights sleep followed.
Up & moving the next morning we went back to the resort for breakfast. Big mistake. New waitress, couldn't keep the orders right, a testy cook and one hour to get bad food. Cooks should stick to what they know. Penny's Huwayvos Ranchero ended up being scrambled eggs with hot sauce. Not good to give someone from the Bay Area. Needless to say, we may go back for dinner again, but never breakfast.
Anyway, after that it was off to the games. I was able to walk the plank once, got beat out on the slow race in the first round and haven't yet been able to convince Penny to bite the weeny. There were people games consisting of Ping Pong Flip & something called Corn Hole e"O". There were Kids games as well, but I was to busy embarrassing myself to see them this time.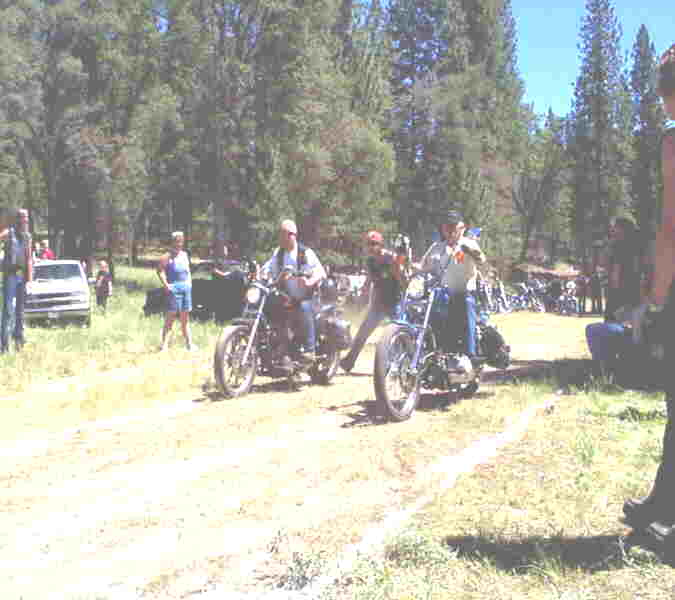 After the games came a nice ride through the forest disguised as a poker run with winning high and low hands. This year it was in the opposite direction which took you through the towns in the area. This year it was just nice country. Four 6s took the prize. Then it was time for the mm-good Tri-Tip dinner by the 3RD Legacy and their as usual fully loaded raffle. Prizes! Prizes! Prizes!!
Must have worked their collective butts off to get so many. They were again, giving 3 or 4 away at a time & still took over two hours to get rid of them all. The 50/50 net the winner $490.00, which made their Bass Lake run possible this year. Lastly we had an NA meeting around the campfire.
There were more fun to be had Sunday, but I had to get back home to work on Monday.
I know they were going to have an Iron Balls poker run. Probably an all day affair and I saw great big turkeys which I was told were for Sunday dinner. Sorry I had to miss out. Better planning next year
This time out I concentrated my photo efforts on the Bikes & Tattoos. I also wanted to hi-light the women bikers on this run.
Bikes & Bikers

Wellabee's Honda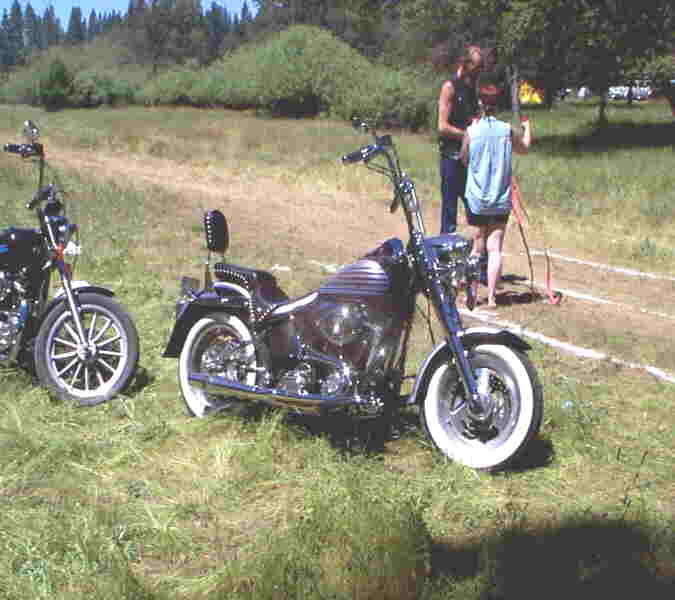 A Womanís Perspective on the Buck Meadow Weekend
The sun smiled on all the happy bikers, brothers and sisters, and on the extremely well behaved and charming kids. California spring gorgeous and inspiring.
The slow riding contest and board riding contest were great as always - with a standout performance and music by The Beaver. And way over the top was the cinematic spectacle of the Hot Dog Bite. Here were all these great women gyrating on the backs of motorcycles trying to bite that hot dog. The symbolism was powerful, the conversation so hot my ears burned. And the
red-headed sister who won inhaled the whole hot-dog.(!) She was amazing.
Hey, whoever designed the Poker Run, it was fantastic, THE best views of deep green valley meadows, roads winding through old growth trees, and for the post holocaust fans, red rock with ghostly leafless trees. Loved the Yosemite Lodge - talk about rustic - for sale, too, Iíd buy it if I could.
I especially enjoyed the delicious chili cooked up and offered throughout the event by a Third Legacy member Jim. It was great. Third Legacy is a Bike club which really knows how to be gracious and to have a good time. Plus facilitating the good time of others present (like myself)
Iíve recently gotten into appreciating the art form tattoos and I saw some great ones at Buck Meadow. I must apologize for not getting better photos of tattoos. I really need to get very close up in order to do them justice. Next time Iíll do better.
Suggestions: Next time Third Legacy and NCA do a run to Buck Meadow (or somewhere else) have the events running in the opposite direction. This time, the photographers had to look into the sun to photograph contestants. It would be better if photographers didnít have to do that. What about it? Is this feasible, guys?
And what about a Biker Fashion Show - with some items for sale - Would that be cool?

Tattoos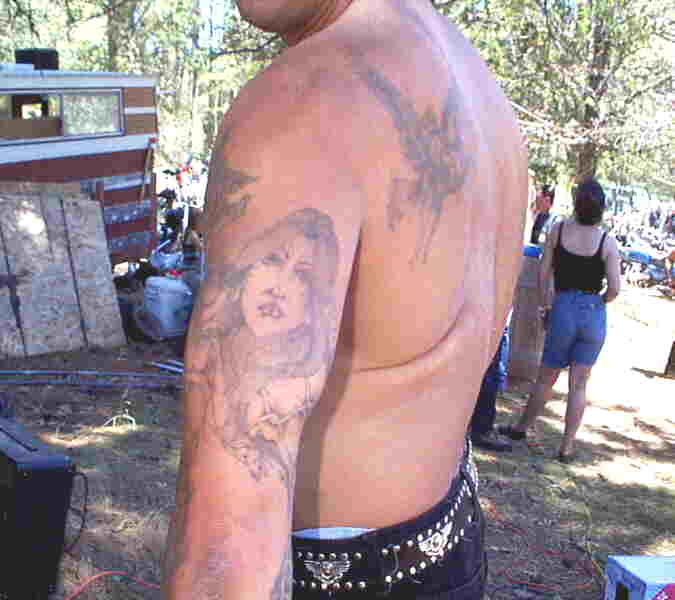 Randy D


David M Kathy D


BACK