Skylark: Outstanding Author of 2002--Iolausian Fan Fiction Awards
Graphic created by Bwell
Skylark's Newer Crossover Fan Fiction Page
---
I created this page to post my most recent stories celebrating the wonderful friendship between Hercules and Iolaus from the hit TV series: Hercules the Legendary Journeys. This collection of stories, Hercules and Iolaus meets characters from other science fiction shows from Janeway to Xena.


Older Hercules Stories | Other Series Stories |Updates

|Mirror Site | | Skylark's Fanfiction Art Page| |Other Authors stories |

|Skylark's Mirror Site Art Page |

Check out my new Art page at my Geocities Mirror site. This mirror site has all the same files as my tripod site except it is more organized: Digital Pictures; Watercolor pictures and Computer Art pictures.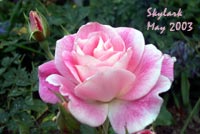 Just click on the pink flower to get to my Art Page!

<
---



I wrote this story in response to the May 2003 challenge to write a story that begins with: "What do we do Hercules if we get out of this?" (more or less). Little Hercules and little Iolaus are in detention for a prank Iolaus has played on a girl named Gina.

Chip off the old block This story answers the April 2003 story challenge of how Little Hercules found out that he is the Son of Zeus.

Look what I got in my email Herc!

In this whimsical story, our immortal heroes discover the internet. Well it's more like Iolaus discovers the Iolausian Library and he is thrilled that there are over a thousand stories just about him and in this humorous story he shows Hercules his discovery and he is thrilled to death that he has been "immortalized" and celebrated in over a thousand stories.

In answer to the January 2003 challenge to write a story where one character of the Hercules universe describes another character of the same universe. I decided to have Twanky describe the new gym instructor of her dance school. Oh what a cute instructor he is!

In answer to the November 2002 challenge where Iolaus tells Hercules the facts of life. In this charming tale, little Hercules learns from little Iolaus the facts of life and little Hercules asks little Iolaus the cutest questions about the facts of life.

In answer to the September 2002 challenge in the Iolausian Library to write about one place from three different points of view, so I wrote about Alchemene's rose garden from three different character points of view. Guess which characters I wrote about

A sad lonely 4 year old Hercules dreams about his destiny.

Hercules discusses the consequences of the Magog attack on Andromeda.




Hercules meets Iolaus for the first time.




This is a crossover story into Andromeda, a sequel to my other stories on Andromeda.




After Iolaus' recent resurrection, can Hercules and Iolaus return to 'life as usual' or will Hercules bug Iolaus' to death




In this delightful tale, can Hercules learn to trust Iolaus again not to hurt himself?




A shy Hercules wants to ask a girl out and Iolaus is there to help him




Iolaus and Hercules meet Dar, the Beastmaster for the first time.




This is a Hercules/Lois and Clark crossover story where Iolaus meets Superman for the first time.




This is an epilogue to Soulmates Part 1 where Iolaus consoles Clark over a particular romantic problem Clark is having with Lois.




In this alternate world story, Hercules is the last Olympian who survives the slaughter of the Olympian Gods. What kind of life can he lead in a world that hates Olympians?




This is the epilogue to the alternate world story of Hercules, the last of the Olympians, and how he copes with being the last of his kind.




Jester Iolaus must decide whether he is worthy of being the leader of the merpeople.




This time it's not Hercules on trial, but Iolaus on trial for a minor offense, will Hercules be able to get Iolaus out of this one?




Will Hercules be able to keep Iolaus from being executed?




The Way of Love or the way of hate

Will the villagers be convinced by Hercules and Iolaus' argument to do the right thing?

NOTE: New stories by Skylark (me) will be posted to this website. Older stories will be stored at my old web site located at