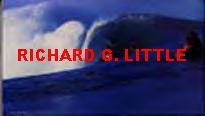 | HOME | CA 1 | CA 2 | CA 3 | CA4 | CA 5 | CA 6 |
| Quiz1 | Quiz 2 | Quiz3 | Quiz 4 |
---
This page, in addition to establishing a page for ETEC 546, also establishes a homepage for Vocational Education Classes
Earth Science
Little, Richard G. Little
CA 7
02/15/03 Resume
ETEC 546
E-mail: rlittle@hotmail.com
Purpose: To demonstrate the design and publication of a Web-page
Source: MS FrontPage
Geocities WS_FTP
This Web-page contains all seven of the competences of ETEC 546:
Lesson Plan
Scanning and manipulating a Document
Power Point Presentation
Mail Merge
Circular
E-mail Attachment
These can be reached by clicking the hypertext links provided.
This Web-site and its contents are orientated toward the instruction of an Oceanography course at the Community College level.
Click the pictures.
This site was designed and developed by Richard G. Little. E-mail comments to: rlittle@hotmail.com