This site is formatted for a 1024 by 768 resolution
Free Advertising from Click2Net!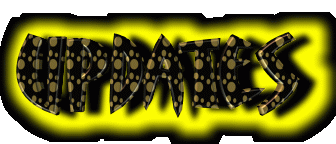 1/08/01
Long time eh? Sorry about lack of information... i havent had
time in a long while with school, sports, friends, and other
things. I have just started working again on my new site. Im
about 1/2 way done now. I am aware that the video clips on this
site are down, they will not be fixed as any other thing will
not be fixed. My new site will be much easier to navigate and
much more original content such as video clips and information.
I also am NOT taking award entries so do not email me or they
will be imediatly deleted. Once my new site officially opened
it will be posted here. I am sorry for the delay. My best guess
on when it will open is late spring to summer 2001. Until then...
6/10/00
Well, as you can see i broke 50,000 hits on my site today so
I thought i should update you on how my NEW site is going now
everything is working now and im starting up on the page again.
Ive gotten quite a bit done now. I am in the process of writing
the info at the moment. The new site WILL be done sometime this
summer so chick back in a few weeks or so. Until then please click
the banner on the top to support my site while im making the new one,
thanks. Oh and by the way, the new one is 100 times better than this
one, seriously.
4/18/00
The new page is coming along very nicely. I should be
able to get a big chunk of it done this weekend since
i have friday and next monday off of school for Easter,
which kicks ass! Peace out : )
4/16/00
I changed what i have of my new page around. I
didnt have much time to work on it but its going well.
Go here if you want to check what i got of it done.
Also, dont email me about any broken links on files,
i will not be updating this page anymore!!!
4/15/00
Ok, im in the process of designing my new page.
Its going to be so much better than this. I dont
have much done yet but if you wanna see the title
image and sidebar i have done so far go here.
Its not much yet since i just got the prog and started
working on it today, but itll get there. Also please click
my banners to support my site. Or join Alladvantage
and use it because it pays you to just simply surf
the web! Ive gotten 4 checks from them already!
3/18/00
Woohoo!!! I just got my cable modem!! I dloaded
Photoshop 5.5 and im starting to get the hang of it.
My new layout/page is on the way! Keep checking back
to see my progress! Oh and i have just been informed
that my last 3 dates are messed up :( They were all supposed
to be 2000 not 1999 lol. Fixed that
2/26/00
I know its been a while.... but im gonna be getting a
cable modem soon. That means ill be getting Photoshop.
This POS page will be completely redone. There wont really
be any major updates for a while except a whole new look
within the next month. So i didnt give up on this page for the
people who think i did.