Bronze Sculpture

The Lurestan Collection "Forgotten Patterns"

All sculptures are made of bronze and are mounted on different Persian stones individually selected from the Zagros mountain chain of Lurestan, Iran area.
It was in this area that around 5000 years ago the original sculptures were created and casted in bronze for the first time in the history of mankind.
This bronze collection on display is inspired by the patterns left behind by the first inhabitants of Lurestan, Iran. These patterns,though some what faded are undoubtedly the artistic remains of a forgotten tribe who dwelled in these caves.
The reproduction of the Lurestan forgotten patterns is but a small tribute on my part to my talented ancestors.

Nooshafarin Atefi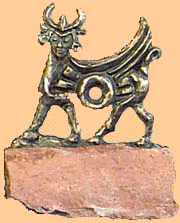 To view more sculptures press gallery.
Thank you for stopping by and please come back often as we change our offerings here from time to time.
Please contact with: persiantique@yahoo.com

---
If you experience any problems with this site, please contact the Webmaster