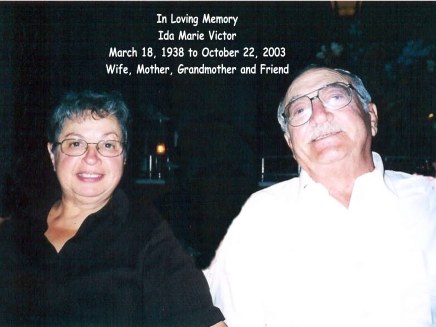 In Loving Memory
George J Victor
August 24, 1938 - August 9, 2007
Husband, Father and Friend
To Those I Love and Those Who Love Me
When I am gone, release me, let me go.
I have so many things to see and do, You mustn't tie youself to me with tears, Be thankful for our beautiful years.
I gave to you my love, You can only guess How much you gave to me in happiness... I thank you for the love you each have shown, But now it's time I traveled alone.
So grieve a while for me, if grieve you must, Then let your grief be comforted by trust. It's only for a time that we must part So bless the memories within your heart.
I won't be far away, for life goes on So if you need me, call and I will come. Though you can't see or touch me, I'll be near And if you listen with your heart, you'll hear And my love around you soft and clear.
And then, when you must come this way alone, I'll greet you with a smile and say, "Welcome home !"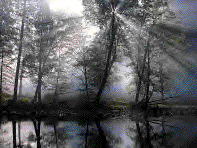 Miss Me - But Let Me Go
When I come to the end of the road, and the sun has set for me, I want no rites in a gloom; Why cry for a soul set free.
Miss me a little - but not too long. And not with your head bowed low. Remember the love that we once shared:" Miss me - but let me go.
For this journey that we all must take; And each must go alone. It's all part of the Masters plan, A step on the road to home.
When you are lonely and sick of heart, Go to the friends we know, And bury your sorrow in going good deeds: Miss me - But let me go.
Survived by:
Daughters, Jacqueline Wilson (Partner Jeanne Walker), Dora Victor, Nicole Allison (husband Zach Allison Jr)
Eight Grandchildren: Jason Wilson, Nicholas Wilson, Sean Wilson, Joshua Schneider, Lucas Schneider, Madison Schneider, Shelby Allison and Noah Allison
Sister, Vivian Wallace (husband Larry and daughter Ariyan)
Friends, Extended Family & Co-Workers:
Jackie Francish, loving friend
Dean Agustinelli & Diane
Kenny & Beatrice Hill
The Gould Family
The Thompson Family
Zach & Phyllis Allison I
Lonnie & Susan Andazola
Dave & Joan Walker
Greg & Paula Walker
Michael & Diane Pagani
Krystle Sheldon
The Ambrosecchia Family (Thomas Sr, Arlene, Pauline, Thomas Jr, Ruth (Jake & Cori)
The Pappas Family
Chris, Arlene, Anna, Shana & John Arrigo
Jack & Christine Ranck and Family
Ethel Victor
Next Level Communications Friends and Co Workers
Digital Equipment Corporation - Friends and Co Workers
So many more to people whose lives were touched by my Mother & Father to list. Please feel free to sign the guest book on our site to be added to this memorial page.
Thanks to Mariposa Gardens in Arizona for taking good care of both our parents.