Purchase Area Hunting Retriever Club
Why you should join a retriever club.
We at PAHRC are often asked "Why should I join a Retriever Club?".
The answers are as varied as the personalities of the wonderful dogs that we work with. Each member has their own reason for belonging to the club, here are just a few.
I want my dog trained...
PAHRC regularly holds free training sessions for its members. The club has members at every stage of the Retriever game, and yes most all of our members hunt. PAHRC brings in guest trainers such as Jim and Phyllis Dobbs for training seminars offered at greatly reduced prices ($100.00 - $300.00 in savings) to members. Getting help on a problem is just a phone call or e-mail away. Even if you never plan to compete your dog, if just want your dog to go to the field or blind a membership and participation in PAHRC can save you time and money.
I want to win awards and titles for my dog...
PAHRC is a member club of the UKC Hunting Retriever Club. We hold and can help you train and prepare for HRC Liscenced Hunt Tests. Hunt Tests are great fun for you, your dog, your whole family can participate. Hunt Tests are a great way to truly judge your dogs abilities.
I am looking for other people interested in hunting...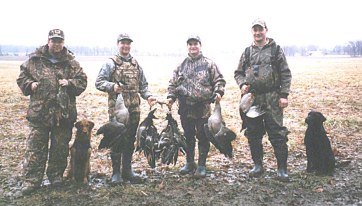 By participating in a Retriever Club you will meet all sorts of people who share your love of hunting. Through club events and Hunt Tests you will make life long friends. Some of your new friends will be other club members, who will become hunting buddies and training partners. Through your participation you will meet fellow hunters from all over the country, and possibly have the opportunity to hunt in areas of the country that you never dreamed of.
Finally to those out there that say "Why should I join a club? I just want to run my dog."...
Without the hard work and dedication of Retriever club members across the country there would be no Hunt Tests to participate in. The clubs sponsor, promote and put on the Tests. Clubs like PAHRC help protect your right to own and use dogs for the sport of hunting. Our sport is under attack on many fronts. The Clubs are a vital visible front line in defense of our rights. PAHRC and clubs like it around the country work closely with Conservation Officers and Departments. We make a significant economic impact in the areas where we are active.
Site design and maintenance by:
W E B D E S I G N