Mariners: The Mariner is a 20 foot centerboard sloop with a fairly large
cabin. It is usually sailed with of crewof 2, but can be single-handed. A great day sailer, it is tailor made to sail the family to the beach for a picnic, A fleet of 40 currently call the Narrasketuck Y.C. home. On any given Sunday in the Spring, you will find a fleet of 8 to 12 of these boats on the water. Check out the Mariner Class Associationat: http://www.geocities.com/Colosseum/ Field/8975/
Narrasketucks: "Tucks" as they are called by those who sail them are 20 foot centerboard dinghy's. The boat was designed and built by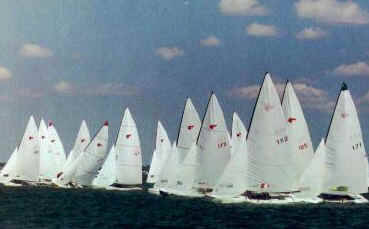 Narrasketuck's own Wilbur Ketcham in 1935. With their large main sails and blade jibs they are a beautiful sight to see sailing. A high performance boat, they are a challange on planing reaches and runs. These boats are sailed with a crew of two or three. This class is the largest active one design fleet on the Great South Bay, and a fleet of 10 calling Narrasketuck Y.C. home. Visit their web site www.angelfire.com/ny/tuck1design.
Sunfish: One of the most popular boats in the world, we have a fleet of over 50. The Sunfish is a 14 foot boat with a single, lateen rigged sail and is single handed.
El Toro: The El Toro is an 8 foot sailing pram. It is raced all Winter at our club and the feature of our Annual Bull Shot Regatta and Winter Frostbite series. With 28 boats at our club, you will find a good 10 to 15 sailing on any Sunday if it's above 20 degrees and the wind under 20 mph.
Seaford Skiff: One of the oldest
classes on the Great South Bay, the Skiffs are a return to Long Island from the 19th century. The plank construction, large rudder and lug rigged sail are a reminder of the glory days of sailing. Narrasketuck Y.C. currently houses 9 of these, of which 5 or 6 can be spotted on the line at most any regatta in the Spring or Fall.