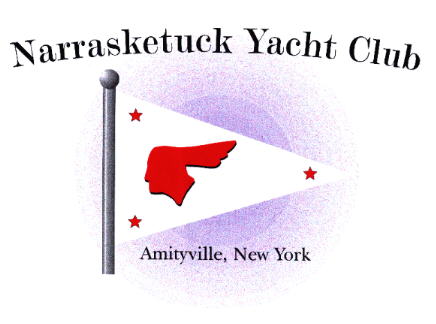 In 1933, the founders of Narrasketuck Yacht Club stated that the primary purpose of the club was the following: " To encourage its members in becoming proficient in the personal management, control and handling of their yacht, and promote socialbility and recreation among its members."
Over the last 64 years, our club has held to this purpose in our racing, day sailing and social activities. We added the emphasis on sociability and recreation today. Our club runs five weekend racing series, six fleet invitationals, the summer Great South Bay series invitational and hosts a weekend of the GSBYRA Championship ladder events each year. We have organized racing 40 weeks out of the year. Threaded through all that racing are five or six parties held at the clubhouse. The season finale is held at a local restaurant where season trophies are awarded, stories told and retold, and a good time had by all.
Narrasketuck is a club that caters to the sailor. From the quiet clubhouse at the mouth of the Narrasketuck creek, to the competition and camaraderie of the El Toro Bullshot Regatta near New Years Day each year the enjoyment of sailing by sailors is paramount.