Jim Keltner
Years: 2002 (first gig: April 20, 2002, Milan, Italy) (final gig: May 12, 2002, London, England, U.K.)

Instruments: drums
Famed session drummer Jim Keltner has played and recorded with Bob Dylan since the early 1970s. While NET band bassist Tony Garnier is the musician who has played with Dylan the most in a live setting (14 years and counting), Keltner is likely the musician who has recorded the most with him. (Their most recent stint together was Keltner's appearance on Dylan's 1997 comeback album, "Time Out of Mind.")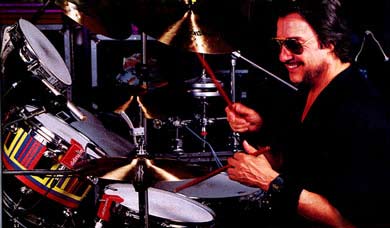 It was this long and trusted relationship that prompted Dylan to call on Keltner to fill-in when Dylan's new drummer, George Recile, had to leave a European tour in 2002 early because of an arm injury.
Keltner "shadowed" Recile during a show in Milan, Italy. On the next night in Zurich, Switzerland, Keltner played half the show and Recile the other half. By the following show in Innsbruck, Austria, Keltner was playing the entire set. He completed the tour with the band in London.
According to unconfirmed rumors, Dylan was not pleased with Keltner's performance on the tour. Regardless, Recile returned to the band when the tour began again later that year.





DISCOGRAPHY: Too many to mention. Bob Dylan, "Dylan," "Pat Garrett & Billy the Kid," "Saved," "Shot of Love," "Empire Burlesque," "Bootleg Series, Vols. 1-3," "Bob Dylan 30th Anniversary Concert," "Greatest Hits, Vol. 3," "Time Out of Mind."