A photo of the Australian Light Horsemen. They will be performing again this year at End of Trail - April 25-29th in Norco, CA.
A Never before published Picture of Anthony in his first show "Teahouse of the August Moon"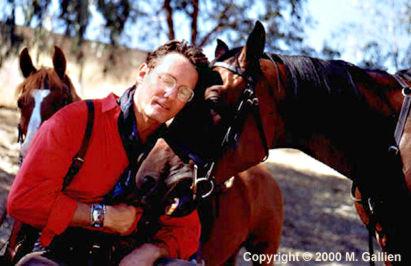 This photo was taken the first day Anthony saw Monty - after spending 4 1/2
months out of the country. It was nice to see the two together again.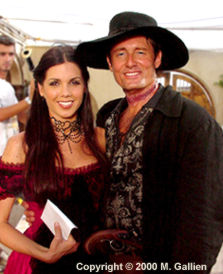 This photo was taken the last day of principal photography on the "Hanged Man," which also happened to be Tessie's 25th birthday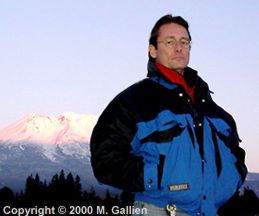 Anthony Poses in front of Mount Shasta.
Photos courtesy of Anthony Delongis
and www.delongis.com
By Jan Lopreste
For Highlander fans, the name Anthony DeLongis brings to mind the epitome of evil. He appeared twice on the popular television program, first as Irishman Lymon Kurlow in "Blackmail," and then in "Duende" as the malevolent Spaniard, Otavio "Consone." That story was developed especially for him and his unique sword stylings and was chosen as one of the "Best of…" episodes. Anthony, the man, however, couldn't be a nicer guy and is actually nothing like his evil counterparts, which is a true testament to his acting talents!
On being referred to as 'the best bad guy going,' Anthony responds, "What a lovely thing to say. I'm delighted you've enjoyed my efforts. I try to be the best actor/storyteller I can, they just seem to like to cast me in the role of the bad guy. It's a mantle I relish because without a strong adversary to oppose him or her, you can't have a strong or interesting hero. A hero rises to the level of challenge he must face. I enjoy making the hero work for it. The villain also offers the opportunity for more freedom and style than us ordinary folks usually get in our day to day lives. However misguided, they have the confidence to make their own rules and that kind of freedom is attractive to an audience." Translation? It's F U N!!
When considering Anthony's professional credits and extensive history in the industry, it might be easier to ask what he hasn't done than to list all of his vast accomplishments! An actor first, he describes that joy and challenge as being "a very interesting mountain to climb, and I climb it every day. You think Everest is tall? Huh!" He snorts emphatically, then laughs.
What was the catalyst that allowed the acting bug to bite Anthony? To answer that, one would have to go back to the high school production of "Teahouse of the August Moon." (see picture) Anthony describes his work in that play, saying "It changed my life. The experience was the hardest work and the most fun I've ever had. I still feel the same way about the work today."
But Anthony is not only an actor. He also works regularly as a fight director and sword master, a professional weapons trainer ~ he trained Michelle Pfeiffer in the techniques of how to swing that bullwhip she used in BATMAN RETURNS ~ and is also a skilled horseman and a writer. And in his spare time? Anthony laughs at the thought.

Actually, Anthony does occasionally get some spare time and he uses it to his advantage, pursuing his love of horsemanship. His mount, "Montagne" or Monty continues his training while Anthony is on location. He's currently jumping a three-foot high course. Anthony and his Aussie mate Colin, will be appearing once again in the Wild West Show during the Single Action Shooting Society's annual event, End of Trail. Anthony will ride "Hightower" while Colin will ride Anthony's former show mount, "Libra". Anthony and Colin have performed at End of Trail every year since 1994 except last spring when Anthony's duties took him to Spain to guest star and act as Sword Master and co-Stunt Coordinator for the first six episodes of "The Queen of Swords." Anthony swore that if he was in North America, the "Light Horsman" would ride again at End of Trail. Colin and Anthony perform with cavalry sabres, bullwhips and pistols on horseback. This year, Mary will be joining Anthony for a whip act on the ground. The dates for this year's event are April 25 - 29 at the Raahauge's Ranch in Norco, California. It is open to the public. For more information on this event, as well as other upcoming appearances, be sure to check out Anthony's official website
When asked how he first got started with horses, he recalls the influence of his father, who had been a horse-trainer years before he was born. "I have several pictures of him working at the tracks back in NY. Then he came out to CA. He was a groom and worked his way up to trainer," Anthony recalls "but then the war came along and they closed down the track, which sort of skewed his plans." Anthony's father went to work for Technicolor, for years the world-wide film industry standard in color. That's "where he met my mother and a few years later, I came along. My riding was something I didn't really get to share with him, but I always think of my dad when I ride."
Anthony's father never got to see him ride, but Anthony reflects fondly, "I think he looks down on me now and helps keep me safe when I go out on these crazy night rides!" He's referring to the full speed night rides led by his riding mentor and friend, Colin, in the hills above Colin's ranch in the mountains of Malibu.
Anthony's appeared on horseback in the movie "Sword and the Sorcerer," starring Lee Horsley. "Oh, I liked that movie! It was the first one where I didn't die! I got to be a good guy and not DIE!" He laughs, referring to the tendency to cast him always as "the bad guy."
"That was really the first time I'd been on a horse in a number of years, and I was a terrible rider at the time! I mean, I stayed on the horse ~ which is good ~ but we were galloping along these cliffs right along the coast of CA where the old Marineland used to be. We were surrounded by very rich mansions and there was one open field with a sheer drop-off at the edge. They were getting a sunset shot and I get to ride up and say 'I wanna go with you!' It had sequel written all over it. They never made the film but that day was an unforgettable experience. Also, it was one of the things that reminded me that I really wanted to be a better horseback rider."
That realization led him to work with Colin Dangaard, owner of The Australian Stock Saddle Company, who became a best friend and would come to work with him as part of the End of Trail appearances. "It had always been a dream of mine to take the 20+ years of my work with swords and whips up onto horseback and I knew I had to be a better horseperson. I got into riding because I had the good fortune to meet Colin. We got together and he threw me on a horse. I think our second ride he took me on a Colin 'trail ride' or, ~ as he used to say, 'Give these horses a good flogging.'" Anthony chuckles, imitating Colin in a lovely Australian accent. "Colin lives out in the mountains above Malibu. He rides cross-country, although he gives new meaning to that word because he's not too interested if it's FLAT! He likes to go straight up and then straight down. I remember we went on about a 14-mile ride up and over mountains and through switchbacks and down and clattering through creeks and he kept looking back and he'd smile. I didn't have a very good 'seat.' (Referring to his level of comfort and communication with the horse) Being on horseback is an alliance. You and your horse had better be allies, because if you're adversaries, you're going to lose! He's MUCH bigger!" He laughs. "It's a partnership based on trust, not strength. That's just how it is and it's one of the things I've learned over the years." Getting back to the story, Anthony continues, "I had worn off the hair on the inside of my legs and was starting on the skin as we came back and Colin says to me, 'Ah, ya know…I really liked the way you stayed out of that horse's face. And you got good balance.' And from that day on we started riding and he started letting me exercise his horses after I got better because he was on the road a great deal and that's how I got lots of time in the saddle. Colin says, 'butt in the saddle time' is what it's all about."
"I guess I started this in 1993 with him and then we started looking for how we could have more fun with it, so I taught him the sword and he had taught me horsemanship and the next year, 1994, we started our "Light Horseman" act in the Wild West Show at End of Trail. We've ridden every year (except last year, when Anthony was in Spain working on Queen of Swords) since then, so this year will be our 7th time out of 8 years. It's a lot of fun. We go out and we camp with the horses for five days. Years past, it's been one of the few chances that Colin and I would actually have to get together and spend some time because he's usually so busy and I'm usually so busy and half the time we're not even in the same state!"
Anthony has been known to go all over the map in pursuit of work. His recent travel agenda made me tired just reading it! "Ya know, have skills, will travel and I tend to go where the work is these days!" He explains. Since the beginning of the year he has spent time in such places as Los Angeles ~ which he still calls home ~ Czechoslavakia, San Diego, Salt Lake City and, most recently, Calgary, Canada. Anthony also spends a great deal of time these days in Vancouver, BC where he recently secured "voice-over" representation.
"I love to do voice-overs. I've done a couple of major animated features. It's a tough thing to break into." He made mention of a day not long ago when things got fairly interesting! "In the morning I had an audition for voice in a new animated series and then I read for two other features later in the day. I ended up reading for 5 characters in one day." He chuckles; remembering that it left him feeling a bit confused by day's end, trying to figure out who the "real" Anthony was! "I was a little psychotic by dinnertime!" He laughs. "Turned out I had worked with this director before on a picture called CyberTracker 2. I walked in the room and I thought he looked familiar, but this wasn't the city he was supposed to be in. He was kind of looking at me, too, and after the reading he said, 'You did a picture with me' and we both went 'Oh, yeah!' and of course he said, 'Would you mind reading for the bad guy?'" He laughs. "So I got to do another cold reading, in Spanish, which was interesting. They wanted Spanish-speaking people and whereas I am hardly fluent I explained that I was teaching the Spanish crew (for Queen of Swords) IN Spanish for 4 months and managed to make myself understood."
These abilities are just one more thing that speaks to the true talent and diversity that this man possesses. Of course, having multiple skills can tend to backfire on a performer, as well. "Sometimes it's a two-edged sword ~ if you'll pardon the metaphor." He laughs. "It can be aggravating because producers get very confused if you can do more than one thing well." He explains that making a producer understand that you have multiple talents can be difficult at best. Anthony has had people look at his resume and note that he is a stunt-man, to which he responds, "Well, yes I can be but I have also performed some of the best roles in Shakespeare." For most stunt men that is not typically where their skills lie. Then there are the folks who say that he's just another actor, and he will respond, "Well, yes, but I have a lot of experience with fights and weapons and choreography and telling my character's story with action." Anthony is, understandably, proud of his myriad accomplishments. "I definitely believe that I am much better at both of my jobs because of the variety of experience that I have had. Each one helps me to be a better storyteller, which is what I think it's all about."
There is a new project in the works that will showcase Anthony's talents both as an actor and as a swords-person. He is very excited to announce his appearance in an upcoming episode of Myth Quest, a show being written by another Highlander alumna, Ms. Gillian Horvath. Anthony describes the basic premise, saying it is about King Arthur and the Knights of the Round Table. "There is a character called Maleager who's one of the other British kings who's sworn fealty to Arthur and he decides he's gonna rebel a little bit and he's being played by F. Braun McAsh." Anthony will be playing none other than Lancelot. The episode will be called "Sir Caradoc at the Round Table." The series is currently scheduled to air on Showcase (in Canada) in September, then will air on PBS (in the US) and CBC (in Canada) in January, 2002.
"Braun is swordmaster on the show, which I was very delighted to see, and he's got several pieces of action that he's responsible for. My favorite is, of course, our big fight, which we are working the way we always do when we work. We evolve it together. We put together our best moves and like to do this sort of 'Well, if you do that, then I'll do this and if you do THIS then I will do that and, OK, if YOU do THAT, then I will do THIS…..' and we work it until it feels right. We, of course, always base our efforts on the story we're trying to tell. It's a delight to work with Braun because we get to create it together and I really enjoy that. I enjoy his generosity and his creativity and he enjoys my experience and we really enjoy each other's company! We get to have fun together and play and this time it will really be the first time we've ever gotten to fight together on screen." Anthony laughs and teases that one of the reasons he and Braun have not worked more together involved "some other fellow…Adrian something-or-other" who monopolized Braun's time for a few years.
Of course, no conversation with Anthony can go on for long without making mention of his dedicated fan base. The core group of his supporters belongs to the Anthony DeLongis Fan Club (ADLFC for short). Anthony speaks with tremendous fondness of the group. "I don't get to see the ladies, and the couple of gentleman who are also in the club, nearly often enough. I saw a couple people at HLDU 2 last year and at "Weekend at Joe's," which was fun, but really it's been the Sword Spectacular since we had a big gathering."
That event was a massive undertaking for Anthony, and was a wonderful success. He brought together amazing numbers of professionals in the field of swordsmanship, choreography and stage combat. Attendees were offered an intimate look at "the process" of creating action, classes in technique, and a chance to really spend time with some very accomplished professionals. "It was an awful lot of work putting it together, and I certainly appreciate everybody's support, both volunteers and attendees. Wouldn'ta been da same widout yas!" He drawls, laughing. Everyone had a great time at the event, which was his primary objective, but it also tired him out quite a bit. "It wasn't until the last couple of minutes, when I was saying goodbye, that the thought suddenly occurred to me 'Must sit down now.' I didn't sleep much the week before the event, and I'm not sure I slept at all once we got started." He laughs, in a weak little voice. Throughout the weekend he kept telling himself to "Maintain forward momentum! Do not stop or shark will die!" It was at this event that his fans got to see him wearing the T-shirt Evil Shouldn't Look This Good, which helped to create the illusion of a well-rested man. He looked so dashing that no one could tell how truly exhausted he was!
"Aw…thanks!" He responds to that observation. "I find when I'm working that it sort of regenerates my energy. I didn't realize I was running just on fumes until almost the end of the thing. Then it hit me, 'OH, petrol gone!' which is why, when I popped into the writer's forum, I asked my assistant to bring me something to eat! I didn't mean to be asking questions with my mouth full but I knew that I simply must fuel!" Just because an actor is someone with talent and abilities, it doesn't mean that they don't have the same human frailties as the rest of us. But Anthony is the first to point out that the fans are a diverse and talented group as well.
"One of the things I try to express in print is that I am always constantly amazed and delighted by what a diverse and talented group they are, how accomplished and ambitious and able in so many areas everybody is. I am delighted that you've all had a chance to meet each other and that friendships have built out of something that was relatively accidental! If it hadn't been for "The Celebration" (Anthony's first appearance at a Highlander convention) I never would have met all of you guys and, quite possibly you never would have met me, and we wouldn't be where we are today. A happy accident, I kinda like that."
He has also greatly enjoyed working with the various people he's had a chance to meet along the way. Recalling his time with Peter Wingfield, while working on Queen of Swords, he tells of his observations about the man. "You know, I really wasn't very aware of his past athletic, and intellectual for that matter, accomplishments. Very impressive. He was a pleasure to work with. I was a little disappointed that we didn't get to do more. He doesn't have a lot of time in the saddle, but I came out one day and he was doing what I always respect. He was doing his homework, saying 'I'm going to have to sit on this thing (a horse.) I'd better know what I'm doing.' So before putting him with the Spaniards, who spoke no English but are tremendous horsemen and women, I offered a few suggestions. I was happy that I could help a little bit. One day we were out on the trail and we saw him. He was out riding with Carolyn and lookin' pretty good except he had one of these goofy 'Brit' hats on, those things that look like a sailor cap upside down? I thought to myself, 'Dear boy, you're not playing golf. You're astride a beastie! Must have a better chapeau than that!'" Anthony laughs, but he commended Peter's dedication, all the same.
Another gentleman whom Anthony greatly admires is Robert Chapin. "He's a fellow that I really respect. Bob is one of the few people in the business whose skill and generosity I trust enough to improvise sword demonstrations with. He's also a top level CGI artist. He's working with the 'A-Team.' I think he did some work on Matrix. I know the company he works for did. He's the one that did all the flower petals on the girl in those stunning images in American Beauty. And you know he doesn't talk about that. He's an accomplished musician and he's a good guy. I had a pretty good idea he'd fit into the fan family, too. He's talented, tall, good looking, very tall, looks good in a Speedo and he's tall. What's not to like? I feel lucky to call him my friend."
Highlander Fan Central will be doing an interview with Mr. Chapin for May release, during which we will discuss his partnership with Anthony, as well as his own numerous accomplishments. There will also be a feature for the Swordsmasters page, where we will showcase Anthony and Bob's extensive sword expertise, and some of the wonderful information, that is too extensive to incorporate here, that Anthony has also given us.
For all that Anthony has accomplished in his life, there are a few desires he would still like to see come through. "I'd like to play a few more good guys! My recent project in Prague, Ariana's Quest, gave me the chance to be the mentor/teacher/advisor to the star of the film, Rena Mero. Rena comes from the world of athletics and isn't afraid of hard work. We shot the feature in record time - fifteen days! The promos look good and they're preparing the film for Cannes in May. I hope it goes to series as planned. I'd also like to do more plays. My time in repertory at the Old Globe Theatre is San Diego is a favorite chapter in my career."
Anthony is a wonderful human being, full of life and love and passion for all that he does. What makes him smile? "We don't have that much time!" He laughs, then pauses momentarily. "Well, things I love make me smile. My partner makes me smile, my dog makes me smile. Working with Braun makes me smile. My friends make me smile. There's a lot! And, you know, when I slow down enough to notice just how beautiful things are around me that makes me smile, too. We're surrounded by beauty and all in all, for most of us, we're pretty lucky. It's just that, so often, our eyes are on the ground or in the air. Working as an actor, that's a favorite. And…riding on a horse makes me smile. That helps everything a lot. That's one of the reasons that I like to get out on a horse, anywhere, anytime. It's a reminder that it's important to just take a breath on a regular basis. As if to say, 'Wait a minute…where am I? This is pretty good!' My career plan may not be happening as fast as I'd like, or there may be some things that I have to deal with that are part of what comes with being alive, of getting done what has to be done so that you can feed your family and keep a roof over your head. It may seem like drudgery sometimes, but you know, you look at the rewards. You have family and friends that you are hopefully able to keep, and you have to remember to work on those relationships once in awhile. All worthwhile relationships require effort. Anything of real value does."
There is a motto known to Anthony's fans that he truly takes to heart. Anthony explains the concept of 'Nobless Oblige' like this. "Traditionally, it means the obligation of the nobility. The way I think of it, it comes from the Arthurian legend and Camelot. It is nobility in the best sense of the word in that you have an obligation to your station, to your status. It's Knights of the Round Table stuff, truly. You defend the weak, that you use your powers and your position for good, that you take responsibility for inequities that you see and address them, you don't turn your back on them. It became the motto for the fan club because, to me, I think the individual can make a difference in everyday life, in little small things. One of the things I loved about Highlander was the whole premise of having somebody who takes responsibility and is willing to act when he sees that something is wrong. These days there's very little encouragement to do the right thing. It's a whole lot easier not to get involved and to walk away, to claim it's not my business. I think there is an inherent nobility in all of us. One of the most beautiful ways it manifests itself is in knowing when something is wrong and when something is right and in trying to do the right thing as best you can at that moment in time. I think that this is something that deserves to be fostered and nourished and encouraged. We all have a nobility and there's an obligation that comes with that. As was once quoted in Highlander, 'evil thrives when good men ~ and women ~ do nothing.' This is how I try live my life as best as I am able, and I hope that the other members of the group look to our motto as something of an inspiration."
The members of Anthony's fan club certainly take their motto to heart, and feel that it is something that they can live up, or at least try to, on a daily basis. Dedicated to raising money for the American Cancer Association, in memory of Anthony's father, and to supporting those who suffer from or have survived cancer, the club is an active force of friendship and 'family.'
This motto makes up part of Anthony's philosophy of life, along with the mandate to do your best. "I always try to do the very best I can at any given moment in time. You judge your success on a lot of different things and it's not always financial, it's not always just career- or work-oriented. Do you like who you see in the mirror? I think the best way to do your best is to be able to like yourself, which is about the only way you're much good to anybody else. It's hard to love somebody else if you don't like who you are."
Anthony cautions us, though, about demanding too much of ourselves. "If you set yourself high standards it's very difficult to have them all within your grasp all the time. I think maybe that's a mistake, too. I'm probably going to misquote this, but the idea is to be careful what you wish for, because if you ever really achieve your dreams…" He pauses for a moment to consider the weight of that statement. "Well, as soon as I achieve a dream, I've already got another one, just out of reach. The best way, for me, to deal with life's disappointments is not to worry that I could have done things better, but instead to say, 'No I did the best that I could for that day.' That is where I set my sights for my own motto of living. I'll show up ready, I'll do the very best I can and I'll move on."
No matter what the task at hand, it's important to remember the bigger picture. "I don't mean to sound trite, but it's the journey. What have you gotten out of the experience? What did you learn along the way? It's supposed to be fun! I don't think the Supreme Being put us on this earth to be miserable all the time."
Anthony is full of encouragement for any effort that he sees around him. He is complimentary of everyone's goals and aspirations, and the first to congratulate an achievement. To his fans, followers and supporters he would like to say, "A very heart felt thank you! I love the work but it makes a huge difference when people come up to you and tell you how much enjoyment your efforts have given them. This can be a grueling lifestyle but having people take their time to tell you how much your contribution to their favorite stories has meant -- well that's a treasure that's beyond price. Thank you." He really does live his motto of Nobless Oblige, which may be why he does the characterization of EVIL so very well. He's an actor, in the truest sense of the word and he truly has perfected his craft! Thank YOU, Anthony, from all of us.

Don't forget to check out his website at www.delongis.com
[ Welcome ] [ News & Updates ] [ Search Engine ] [ Forum ] [ Chat ] [ The Series ] [ The Raven ] [ ENDGAME ] [ Events ] [ Fan Fiction ] [ Interviews ] [ Star Bios ] [ Directors on Directing ] [ Davis/Panzer ] [ Methos Chronicles ] [ Philosophy ] [ Photo Gallery ] [ Swords Masters ] [ Conventions ] [ Quotes ] [ Links ] [ Just For Fun ] [ Contact Us ] [ Navigation ]

This photo was taken during the genesis of the big fight for "Caradoc." Anthony and Braun caused quite a stir their Vancouver neighborhood with their rehearsals.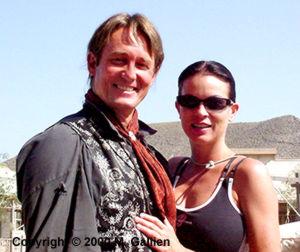 Anthony Poses with actress Elizabeth Gracen.
Anthony and Monty taking a break during the Grizzly Summer Mounted Shoot in Simi Valley, CA.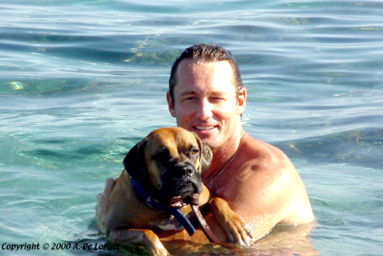 This photo was takenat the beach at Mojacar, about 15 minutes from home. The water this day was crystal clear and still - the only green-flag day they had the entire time there.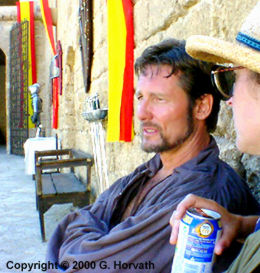 This photo was taken during a break from filming during "Destiny." The opening sequence was filmed at the Alcazaba in Almeria - a 12th century fortress.
Anthony with long-time companion and partner Mary Galien at the set of Queen of Swords.