Lyria poses with Liz Gracen at the Gathering Luncheon
Jan a
d
tLyria meets a few new freinds.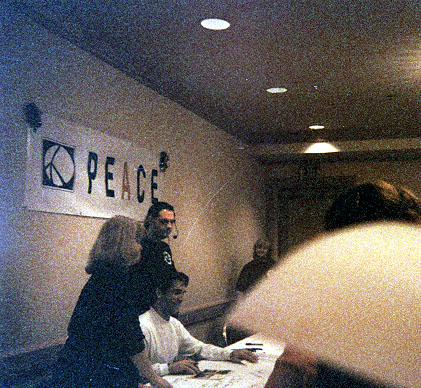 Adrian Paul Signs Autographs in the Peace Room.
The Gathering V
The Stan Kirsch Moment
By Lyria Wollich
First of all I want to say that Stan Kirsch is one of the sweetest guys I've ever met. The Gathering was my very first convention and I was not very sure what I was doing or even where I was going. The first time I met Stan I was coming out of the Dealer Room - and not paying much attention to where I was going - and ran headlong into him - and three security people!
I apologized feeling really stupid right then and Stan just laughed and said "I guess I should have been looking where I was going. It's hard to pay attention cause there are so many people here. Wow!"
He shook my hand and then went to his Autograph room which was towards the back of the convention area. A lot of people were lined up to get his autograph and I could hear a lot of them saying that he was signing not just one, but two pictures of himself for fans. That is a lot of signatures folks!
The next day I ran into him while Liz and I were getting some food for the breakfast. Stan looked beat, but cheerful. I could understand why he - and the rest of the cast were so tired. The auction the night before had been over 3 hours long. It was only supposed to last and hour and it was brutal. I didn't even stay until the end, I was exhausted. I could just imagine how they felt.
Smiling I looked at Stan and said "Hell of an auction night last night. I'm surprised you guys are even standing."
Liz laughed and nodded. "Tell me about it."
"It wasn't so bad, Stan said bravely. "It was kind of fun."
I gave him one of those - 'ok, but I know better' looks and Stan grinned and fessed up. "That was the longest auction I've ever been in. I didn't think I'd make it to the end. Every time I thought 'great! We're done.' someone else would come up with another box of stuff."
"You did great." I told him "You lasted longer than I did." explaining to him that I had gone upstairs shortly after 8:30. "I could kind of tell that everyone was getting the thousand mile stare up there." (talking about them on the stage) Stan just nodded and said he wished he could sleep for a few more hours and then went back to his table.
A lot of people who go to these conventions don't really appreciate how much time and effort the actors spend on our behalf. They are carted from Q&A's to Autograph signings to events and back again.
So this is my chance to say thanks to Stan for being such a great guy and being nice to a newby.
To find out more about Stan visit his website at www.stankirsch.com.