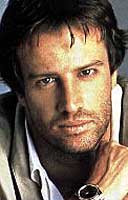 An Insider's look at Christopher Lambert
By Lyria Wollich
One thing that jumps out at you when you meet Christopher Lambert in person – Pure Charisma. Whether it is the way he looks at you with those intense hazel eyes under thick, brooding eyebrows or the trademark laugh that is entirely Christopher's own, handsome and talented, Christopher Lambert has that un-definable quality that draws people to him. Born in Long Island, NY in 1957, to French parents, Christopher is the son of a United Nations financial expert. When he was two years old, his family made the move back to Europe. There, Christopher was enrolled in Swiss boarding schools, due to his parents heavy traveling schedule.
As an established actor with a long list of 34 feature movies to his credit, including the upcoming feature Highlander Endgame, the French Vercingetorix , and an action thriller Point Men, Christopher Lambert has often stretched his own definition by accepting roles that were off the beaten track. If you watch his vast repertoire of movies, you'll notice he likes to mix things up a bit.
When asked what he won't do, he replies rather tongue in cheek, "Yes, porno movies! And why? I don't have to answer, I'm sure you'll understand why."
He is drawn to characters who have a certain uniqueness and intensity about them, much like Christopher himself. His recurring role as the Highlander, Connor MacLeod is no exception.
Recently, we had the chance to catch up with Christopher and talk to him about Endgame, his latest Highlander epic. Christopher first got involved in the popular Highlander film series in 1985, starring with veteran actor Sir Sean Connery, who played along side Christopher as his mentor Ramirez. The movie was to break new ground in the Sci-Fi genre and was to be the start of a legend that continues to this day.
When asked what drew him to the film series, he replies "It was a movie about the joy and pain of immortality."
He followed up his popular role twice more in Highlander II, The Quickening, again with Connery and Highlander, the Final Dimension with Mario Van Peebles (who matched up again in Gun Men a few years later).
In 1992 Christopher was approached by Highlander film producers Bill Panzer and Peter S. Davis to co-star in the series premiere of the popular Highlander – the Series which introduced actor Adrian Paul as Duncan MacLeod, Connor's younger clansmen. As Connor so aptly stated in the first episode – The Gathering, "Same clan, different vintage."
It was obvious that the two men had a great chemistry together.
Christopher states "Adrian, being the Highlander in the TV series, meeting Christopher, the movie's Highlander was an obvious chemistry. I think we complete each other. We always had a great relationship."
So it's no surprise that in Highlander – Endgame, the fourth installment of the Highlander films, that once more Adrian Paul and Christopher Lambert would come together. It takes the best from both Highlander realms.
I asked Christopher what it was like to work with Adrian again - whom Adrian states are good friends off screen as well as on; after so many years, almost reprising his relationship with Sean Connery's Ramirez, though this time Connor takes on the role as mentor. "Yes, we're very good friends. I'm not a mentor but more a brother. So, it was fun."
How did he approach that relationship in different time periods? "Well, this is the essence of Highlander," he says "therefore, it's a privilege to run around through time. There's no approach to that just a pleasure."
And what made Christopher come back to the film series? "Because, since doing the first Highlander movie, it was the first movie that really had an essence about the pain and the joy of what immortality is about. I had to do it, so my circle is completed. It feels good because I believe there is something genuine about being immortal and accepting the fact that no matter what, you have to carry on living." But, does that mean that Connor won't be back for more. Christopher laughs and replies "Never say never."
So did Christopher know when he did Highlander I, that he would become the legend that he has in so many Highlander fan's eyes. "Absolutely not, I loved the romantic side of the movie. I had no idea it would become the cult movie it has been for "centuries" (just kidding)."
We also talked about Highlander's Directors Russell Mulcahy and Endgame's director Doug Aarniokoski. In discussing their similarity and differences, Christopher was very poignant. "Doug is not just a very visual director, he is also incredible with feelings. Russell had the same qualities. Highlander: Endgame is not just an action movie, but also a reflection on immortality. It was important to have both, because of the script of Highlander I. For me, it was refreshing to come back in on Highlander: Endgame, to an entertaining movie, that could also trigger some questions within yourself. Doug, like most talented directors, has his own personality and he's very attentive to the acting as well as the visual and it's rare for most action directors. He's a very sensitive human being."
And it's that depth of feeling and of purpose that has kept most Highlander fans loyal to the movies and the series.
But, aside from just the deeper aspects, both Christopher and Adrian have very physically demanding roles in Endgame, as they have for all of the Highlander roles. When asked about the physicality of it, Christopher replies "We had a few bruises during and after filming." In a recent interview we did with renowned Sword master F. Braun McAsh who worked for 4 seasons on the show and the Endgame film, he discussed some of the inherent difficulties in shooting a film with swords. "Since Christopher cannot wear contacts, I was prepared to deal with the whole vision thing, which never materialized. Christopher is a very professional actor and works very, very hard. He would always come back to me and ask, was this ok? Can we do it better? He was great to work with and one of the nicest guys I ever met." Christopher in turn said "F. Braun McAsh is highly professional and a pleasure to work with. I believe he gave a lot to Highlander Endgame not just as a sword master but also as a human being"
So what else does Christopher Lambert have in the works? "I just finished a big epic called "Vercingetorix" with Columbia Pictures which is about the first King of France. I also finished filming "Point Men", a political thriller directed by John Glen based on a best seller called "The Heat of Ramadan"." And he's also looking into doing a new movie called Joshua with the writer, Brad Mirman, who also wrote Gideon, the very special movie from Christopher that was released last year. I asked him about why he did Gideon, which is a film about a special young man who enters a retirement community with some very surprising results. Gideon's simplicity and genuineness touch all those around him. " I was raised with people like Gideon and therefore, very influenced by them because my mother was a psychiatrist for mentally retarded children. I was always fascinated by the genuity of these persons because their hearts are pure."
But don't think of Christopher as just a talented actor, he is also a very savvy businessman. He has a chain of restaurants called "Gitana". "We're opening the first European one in Madrid in November." He muses. And he also has his own website called "Celebrity Village" which he created this year. You can see his own website there as well as many other celebrity sites. His webmasters Kodrik, Voltaic and Zingo have done a fantastic job with putting together a fan friendly site, and Christopher is often found there chatting with his fans, and downloading pictures and short movie clips. You can find it at Starz Planet It is a wealth of information, so be sure to check it out, and say hello to the webmasters when you do.
So how does he find time for his all his fans, who are spread worldwide? "It's just a matter of passion and respect for the pleasure I feel coming from what the fans are giving me and when I'm acting. After all, in my life the only persons that could trigger the same emotion are people I love but, at the end of the day, it all ends up in the same circle." And look for Christopher doing a bit of singing in the future. "I'm first an actor but there is something very attractive and powerful about singing ; we'll see..."
I'll be first in line for that concert or album! Highlander Endgame opens September 1, 2000 in theaters EVERYWHERE.

Christopher Lambert has over 34 movies to his name, here are just a few you'll find at your local video store and theater.
Highlander I, II, III, Endgame
Point Men
Vecingetorix
Tarzan - the Legend of Greystoke
GunMen
Ressurection
The Fortress I,II
Mean Streets
Gideon