John Darling

F. & A. M.
Site created and maintained by:
Tony Gallo
Updated
3 Nov 00
---
Worshipful Master
Thomas R. Hitchcock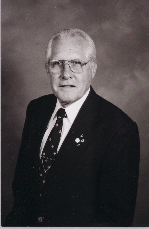 (Click on picture)
As Worshipful Master of John Darling Lodge for the year 2000, I welcome
you to our website. We are located at 4601 N. Habana Avenue, Tampa,
Florida 33614. Our phone number is (813) 879-0635.
Stated meetings are held on the second and fourth Wednesdays of each
month at 7:30 PM. Please pay us a visit if you are in the area. I can be reached at (813) 264-5083 (H), pager (813) 266-3297, or E-mail: Hitch1971@aol.com. Thank you for your visit to our site.


---
2000 Officers
Senior Warden: Dale Brown
Junior Warden: James J.T. Blum
Treasurer: W..Miguel Cuervo, Sr., P.M.
Secretary: W..Theodore G. Cooper P.M.
Chaplain: James B. Vanders, Jr.
Marshal: W..Paul R. Gallo Jr., P.M.
Senior Deacon: James B. Webber
Junior Deacon: Manuel L. Medeiros, III
Senior Steward: Kevin Charles
Junior Steward: Ronald J. Folsom
Tyler: Manuel A. Arduengo
Historian: Jim R. Armitage
Tyler Emeritus: Carl C. Coley
---
Welcome to the
homepage of
John Darling Lodge # 154
Powered by counter.bloke.com