Mac is a Siberian Husky that I rescued from an owner who was unable to keep him at about 6 1/2 months old. He is a typical Siberian Husky. He loves to dig and run and is stubborn. If you ask him to sit he will try to talk you out of it.. after all sits are dumb you know! You can see Mac's Pedigree here.
Ever since I got my first Siberian Husky I've know this is the breed for me... after all what other animal in the world can I argue with... and now always win? They are not for everybody but for those of you who share your lives with this breed like I do know how special they are. Please take a look at the rescue page while you are here. There are more dogs like Mac just waiting for someone like me to save them.
Mac's New Pictures!
Mac just turned a year on Oct 28th and weighs about 55lbs now.

Mac still can't believe he doesn't fit under the bed anymore.
Mac always wants to play and with a face like that its hard to say no...
I love the look on his face in this one.
Having a good time on the back deck.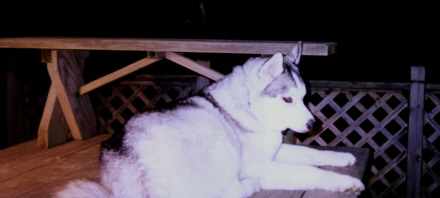 Relaxing at night on his picnic table.
Looking for trouble is my guess.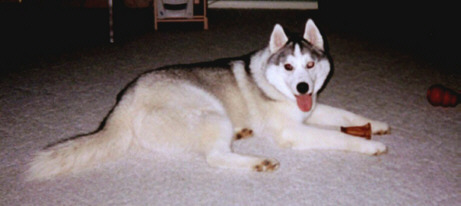 Smile!
Sitting on the couch with my brother John. Mac thinks he is a lap dog.
First snow of the year!

This is Oscar my four year old kitty. After 9 months I think he has finally accepted that Mac isn't leaving... and he's not happy about it.


Here are some links to Mac's favorite sites!!
Rescue.. please take a look.
If you would like Mac to list your rescue please e-mail his mom.
Training sites..
www.clickersolutions.com An excellent site and a clicker list too! Check out Mac's story under Success Stories: Winning Mac Back!
Husky sites..

The Siberian Husky Club of Greater Cleveland
www.host.fptoday.com/shcgc/index.html
Everything Husky!
www.yukonalaska.com/husky
Very informative about Sibes good and bad qualities.
www.playground.sun.com/~randyf/husky
Husky Health!!
www.yukonalaska.com/husky/health.html
Emergency Dog Links
http://hawaiianlanguage.com/shelties/emergencydoglinks.html
Siberian Husky Club of America
www.shca.org
Stuff We Think is Just Plain Fun!!!
Automatic Complaint Generator (really kind of funny!!)
http://www-csag.cs.uiuc.edu/individual/pakin/complaint
Send a personalized 3D Greeting. These are really nice.
You are visitor number