This cool web mistress is from the ImadokiML. It has a very nice design and mascot! She has a summary, character descriptions, and the most complete link page that I've seen.
This site has a nice design. Unfortunately, it hasn't been updated in a very long time.
This is the first known Italian IMADOKI site that I know of....or at least I believe that its in Italian. Anyways, its got stationary and some images. Tres Bien!
This Site is under construction.
Character Shrines
This site is under construction.
Manga Translations
She offers the only known translations of IMADOKI up to volume 13; however, you can no longer get her translations for volume on the site. Instead you must email her for the manuscript.
Image Galleries
A small Imadoki site that has tons of images of Sho-Comi covers and color sheets.
Fan Clubs

IMADOKI 2000~Dandelions
This is a very cool site. It offers membership to the first IMADOKI Fan Club! There is a character adoption center, fan art gallery, and image gallery.
This is a fan club located on Yahoo. Its basically a message board.
Mailing Lists
Nice group of people who talk about IMADOKI periodically. Its located on Yahoo Groups. Come and join the fun!
This is a relatively new ML runned by Kouki no Miko (the same web mistress of Poplar's Den). Its also located on Yahoo Groups.
Link to Me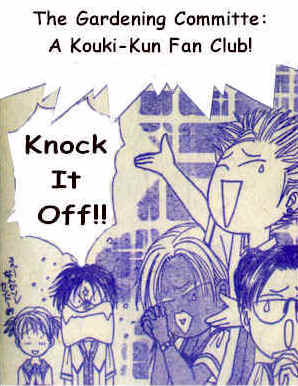 The Gardening Committee:
A Kouki Kun Fan Club
http://www.kouki.atfreeweb.com