Altering
A technique in which the artist
hand alters the clay body of the pot.
This process is done while the clay body is still wet.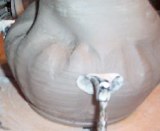 The clay is pushed out and the pot now
has a ribbony or twisted affect.
The pushed out clay can give depth and dimension
to a finished piece altering the clay body to achieve artistic affects.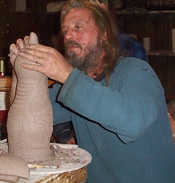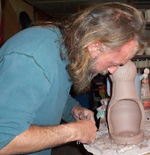 Ken uses hand carving tools to carve his art work on to
a semi dry clay body.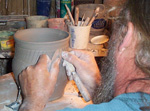 Using a clay carving tool as a guide,
gently carve your design in the clay.
Caution: Take care to not carve too deep.
Deep incisions can puncture the clay body.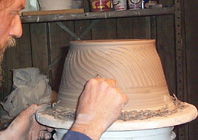 Ken uses a small turning wheel when carving.
Carving examples
The trees in this piece were altered by pushing the clay body out.
This technique adds depth to the trees and dimension to the sky