KARA, or Aunty Entity as she was fondly known, was my second Rottweiler, my first Show dog and my first Champion. This old girl taught me a lot. She was titled before her second birthday and was a Reserve IN GROUP winner and Multi CLASS IN GROUP and IN SHOW winner with fourteen CC's and eight Res. CC's to her credit.

KARA produced two Champions; Aust.CH. KALRISSAN RISING FURY and Aust.CH. KALRISSAN KOTAR KARMA, who often took both tickets at the shows in their time.

KARA was never fond of the Showring and preferred to spend her time at work with me at the Veterinary Surgery. KARA was of great comfort to many frightened clients and was often found sitting beside our most unwell patients. She would also disappear for hours at a time and was always found in the paddock watching over the foals (in case their mothers were not!) or herding the chickens and ducks back into their pens. KARA firmly believed that they had no right to go where ever they pleased!!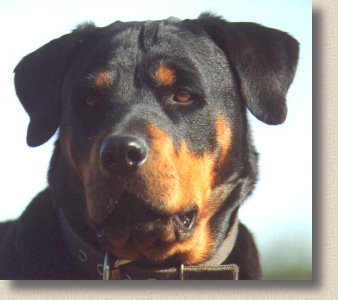 "Kara at five and a half years"