Las Vegas

Out and About
Kim's 30th Birthday. We went to a nightclub where Boogie Nights were playing. Kim was trashed and was asked up on stage for her birthday. Well as you can see she stole the show. She literally became part of the act for an entire song, dancing from one side of the stage to the other. We loved it. I don't think Iv'e laughed so hard. People were asking her if she was part of the band. It was so good to see her up there having such a blast, definatley something she's going to remember for a long time to come.
---
Our favourite leisure activity - partying at the Beach nightclub
---
Mr Miyahi from the Karate Kid (Jenny, Zoe, Mr Miyagi, Stale, Kim and Emma)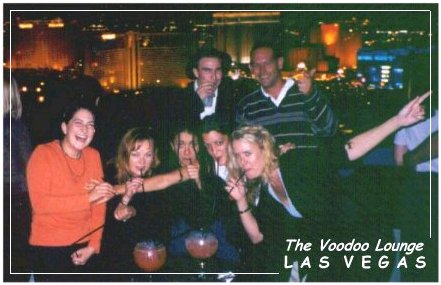 ---
The Karaoke Bar

Every Saturday night the hostel goes to Dino's, a small pub in Vegas for Karaoke.
---
Scooter Shmooter
Once there was a little girl named Mini-me (AKA Kim) who decided she wanted to hire a scooter to cruise the streets of Las Vegas. I really could'nt be bothered due to the fact that I was passing out with the fucking heat and had to get to a pool fast. So off she went on her merry little way to hire a scooter. All you need is an international drivers leicence and alot of guts, something I thought she had none of. The guy at the hire place laughed as she clumzily drove out onto the street (taking extra care that she drove onto the right side of the street). She hooned up and down "The Strip" in amazement at all the giant casino's and shopping malls. Scooters only travel at approx. 60miles per hour so for this reason your not aloud to take them on the freeway. Mini-me took a wrong turn and guess where she found herself. I only wish I was there to see mini-me on her bright yellow scooter, complete with stack-hat, and waving "hire me" flag at the back, cruizing up the 5 lane freeway, cars flying past. She was in a lane then looked behind her and saw a pile of cars heading towards her at a fast pase, so she decided she'd better get out of the lane and just drive along the edge of the freeway.
Finally she came to an exit, so off she went, only to find herself in a strange and dingy part of town, shitting herself. She finally came across "The Strip" (the main strip of Vegas). Happy again and having a ball, cruizing down the middle lane of the street...........then......chug chug.....chug chug...the scooter just stopped...she pushed it off to the side of the road where she had to ask for help because she had no clue on how to start the damn thing. They had no luck so they called the scooter place who 20minutes later arrived. Mini-me was furious because she was ten minutes late for a show. The scooter had "run out of gas". She promptley told the guy off and told him she wasn't paying for it and stormed off the hail a taxi. She missed the show.
NOTE: We later found out that she had been moving the throtel back and forth constantly instead of just holding it back. Do you think that may have caused the gas to run out????
written by : Jenny
---
"NNNNNEWMAN"
We met Newman in the Venetian Casino. He was eating his lunch alone so of course we had to interrupt him for a photo. He didn't complain, just said "Well alright" and stood for the photo.

We didn't hang around to chat though. Imagine how many times he had to stand up during his meal. "Good one NNNNNNNNewman"
---
15 Minutes of Fame
We came stumbling out of a Casino on our second day in Vegas. A guy approached us with a microphone and started talking to us. He was looking for people to be interviewed for a game show called Street Smarts. They asked me if I'd be in it and before I knew it I was signing my name on the dotted line. God know's what I signed but they filmed my interview for over an hour. They were asking me trivia questions mainly about America and American celebrities. It was cool, I did alright, except when they asked me who Bill Clinton's first lady was and I wanted to say Monica but I couldn't remember her name so I blurted out Madonna. What a right twat. Everyone laughed though so it didn't go down too bad, and can tou beleive I knew how many states are in America.

The show is on air now but I haven't been watching it. Im dreading it.
This is Vegas Baby Farewell Sydney Los Angeles San Francisco Folsom Street Fair San Diego Yosemite NP Tijuana Grand Canyon Joshua Tree Forrest