| | |
| --- | --- |
| | Skiing in Nevada |
| | |
| --- | --- |
| | Skiing was loads of fun, none of us really knew how to ski, apart from Craig and Sid. There was about 15 of us and we had so many laughs. Chief (pictured 2nd from the left) decided to try snowboarding, and ended up spending most of the day lying in the snow. |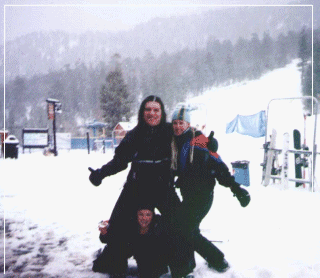 It could only have happened to Kim.

Definitely the highlight of the day was when Kim smashed her knee on a rock and couldn't move. I was skiing with her when she took a soft fall, and hit her knee as she fell. She was in allot of pain and we thought she had broken something so I called for the medics. She fell underneath the ski lift so everyone that went past had a laugh.....until they saw that she was crying.....hehehehe. The medics came and checked her out. They stood their ski's up in the snow to alert anyone coming down the hill, as if Kim wasn't crying enough as it was, the wind blew the ski over and it came down and hit Kim in the back. It really is funny now that I think back because she's so small and she was in so much pain, everyone started to gather around to see if she was ok. They put her on a stretcher and dragged her down the mountain.

Although we all had a good laugh, everyone fussed around her to make sure she was ok, she spent 14 hours sitting on the lounge in our room smoking and watching TV because she couldn't move her leg, 2 days later she was back downstairs in the bar without a problem.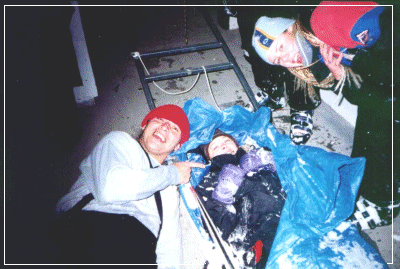 This is Vegas Baby Farewell Sydney Los Angeles San Francisco Folsom Street Fair San Diego Yosemite NP Tijuana Grand Canyon Joshua Tree Forrest