| | |
| --- | --- |
| | Christmas 2000 in Vegas |
We turned part of our loungeroom into Santa's Grotto with a snow covered hut, fairy lights, a snowman and a "no eye dear".
Towser and Robbo - Ireland
The male hostel staff were volounteered to do the HouseKeeping on Christmas Day in nothing but their Christmas stocking. It was way too cold on the day so they improvised. I can't believe they got up the courage, after a few beers they came out of their rooms to entertain everyone. "Good one boys"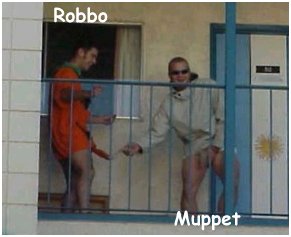 This is Vegas Baby Farewell Sydney Los Angeles San Francisco Folsom Street Fair San Diego Yosemite NP Tijuana Grand Canyon Joshua Tree Forrest