[ Up ] [ Seattle Ballfesting ] [ Seattle BF Cont'd ] [ Seattle Ballfesting 3 ]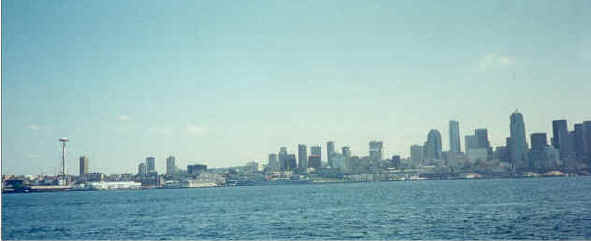 Photo taken from Bremerton-Seattle Ferry - Courtesy of Linda Bates
About Seattle
Why is this page printed in green?
Answer: Seattle's nickname is The Emerald City - so green seemed like a nice choice :-)
Seattle Center and Space Needle - Photo Courtesy of Linda Bates
Where is Seattle?
Answer: Seattle is in Washington State in the USA and located in the Pacific Northwest. Washington state is bordered by British Columbia to the North, Montana to the east, Oregon to the south and the Pacific Ocean to the west . Seattle is a sea-port on Puget Sound.
Merrill and I live in Bremerton, which is about an hour from Seattle by ferry, or an hour and a half by car. We can see Seattle from many places in town on a clear day or night - and we think it is a beautiful place.
We can also see Mt. Rainier from several locations and we think it's quite beautiful too!
Washington is a beautiful state, Seattle is a beautiful city and the arts capitol of the state. It's a great place for Ballfesting ~ so when you're in the neighborhood ~ drop by!
After seeing our Seattle Pages, why not travel completely across our country and visit our last Ballfest USA stop at: Winthrop, Massachusetts
Contents Contents Page 2 Contents Page 3