[ Up ] [ Bernie's Poems ] [ Words from the Guys ] [ Jackie's Poems ] [ Jinty's Poems ] [ More Poems ] [ Still more poems ]
Just grab some tea or coffee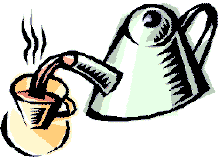 Find a comfy place to rest
And choose a "Book of Poetry"
We have some of the best!
There are poems from Martha,
And from Jinty too
Poems from Bernie
And one from Sue.
From Kate, Marty and Sharyn
Marcia, Kelly Jo and Cherylynn
There are poems from Michelle, and Janice and Terri,
And others include Theresa, Terri and me.
We're all Michael fans
And there are quite a few
Are there any poems here
That came from you?
Contents Contents Page 2 or Contents Page 3