[ Up ] [ Michael Ball ] [ Remembering Philip ] [ Monica Dillan ]
This page is for Monica, her family and her friends.
Monica Dillan
1980-2000
Michael Ball Fan
BallfestNews Member
Friend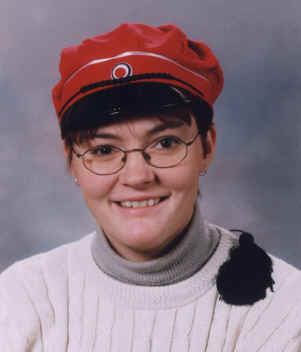 Monica
So brief was your time on earth
Yet long enough for you to know,
The joy of Michael and his voice
And you did love him so.

And always feel the joy it brings,
May you hear his voice forever
For no matter where we are
Michael is with us when he sings.

Those of us who remain behind
Have lost one of our large family,
But you will always remain in our hearts
And a fan of Michael's you will always be.

By Martha Henrich
May 25, 2000
A Note from Monica's friend Sissel Nyheim:
In Norway, when you are finishing high school, we have 14 days, a kind of holiday, where we celebrate that 12 years of school are over, and it is also as part of the celebration of our National Day, May 17th. It's called "Russetid". Monica is wearing the hat (a part of the outfit) that symbols this time in our life. A happy time, before we go to the University to study on or into the "adult" life.
Monica wrote about herself " Michael Ball has taken my heart away, and he will have it forever".

Monica was fond of music and sports, friends, theater, Garth Brooks and - of course Michael Ball. She discovered Michael on the Les Miz 10th Anniversary concert at the RAH in 1995, when he sang "Empty Chairs and Empty Tables."

Her favourite songs were:
You Made Me Love You (the concert version from the video "The Musicals and More")
Gethsemane
Someone Else's Dream

Monica had a kind heart, was a very good friend, and had lots of humor. She wanted so much for others to have the opportunity to discover what a wonderful artist Michael is, and she dedicated a lot of time to promote him in Norway.
The Norwegian Michael Ball fan site, was Monica's mission in life. She wanted Michael to be known in Norway and Scandinavia, so that more people than her could experience the joy of his voice.

Love from
Sissel