Drinks
Martinis
Vodka Martini
Vesper Martini
Champagne
Vintage spirits and wine
Comparison with books
Food
James Bond's Scrambled eggs

Martini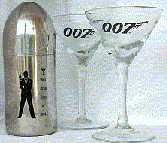 Bond's choice of 'vodka martini, medium dry, shaken not stirred' from Russian vodka and with a twist of lemon peel marks him out as a man who knows what he wants and how he wants it. 'Shaken not stirred' is now a stock line for every film, and is also likely to become a title before too long. Bond's vodka martini seems to be famous throughout the world amongst Bond villains, all of whom invariably have one prepared for 007. However, Bond isn't a snob, and when Henderson offered him one 'stirred, not shaken' Bond says it is 'Perfect'. The Martini was once known as 'Martinez', and is probably derived from this rather than the vermouth drinks manufacturer Martini.
Preparing the medium-dry Vodka Martini as preferred by James Bond in the films:
Add 4 measures Vodka (use a tbsp or an oz as a measure to fill one cocktail glass)
Add 1 measure dry Vermouth (noilly prat is one possibility)
Shake with ice. Do not stir. (Shaking gives the misty effect and extra chill preferred by Bond)
Add 1 green olive (some bartender don't add this. James Bond prefers the olive)
Garnish with a thin slice of lemon peel
Serve in a cocktail glass
Preparing the 'Vesper', a martini designed by Bond in Casino Royale and liked by Fleming:
Add 3 measures Gordon's Gin
Add 1 measure Vodka
Add 1 measure blond Lillet vermouth
Shake very well until it's ice cold
Garnish with a slice of lemon peel
Champagne
007 and his enemies have particular tastes in champagne. For many years, Bond's tastes were dominated by two kings of Champagne: Dom Perignon and Bollinger
In Doctor No, Bond picks up a bottle as a weapon, but No suggests, 'It's a Dom Perignon '55. It would be a pity to break it'. Bond's reply is 'I prefer the '53 myself', although in Thunderball he orders a '55 at the Casino restaurant. (presumably because it had become more mature). In Goldfinger the '53 was still his champagne of choice, and when the one by his bed had lost it's chill he suggested, My dear girl, there are some things that just aren't done. Such as drinking Dom Perignon '53 above a temperature of 38 degrees farenheit. That's as bad as listening to the Beatles without earmuffs. In You Only Live Twice Bond was offered a Dom Perignon '59, but had to turn it down because he'd hidden a body in the cabinet the previous night.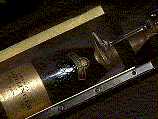 Roger Moore's Bond developed a taste for Bollinger in Live And Let Die, although by The Man With The Golden Gun he returned to Dom Perignon, preferring the '62 above the '64. On The SPy Who Loved Me Bond found a bottle in Stromberg's escape sub and suggested 'A man who drinks Dom Perignon '52 can't be all bad. By Moonraker Bond was drinking Bollinger '69, and in A View To A Kill he correctly identified a Bollinger '75 and also approved of Achille Aubergine's choice - A Lafitte Rothschild '59. Bond took a Bollinger with him to Zorin's estate, and also drank one early in The Living Daylights. Bollinger was also among his acquisitions for Koskov from Harrods. In Goldeneye Bond revealed a Bollinger '88 and two glasses stowed away in his Aston Martin (left), and in Tomorrow Never Dies Paris's choice of 'Mr Carver's Champagne' did not impress our hero. top of page
Wines And Vintage Spirits
James Bond's knowledge of wine and vintage spirits has often given him an advatage over the enemy, and also over M whom he often puts to shame with his knowledge and taste.
In From Russia With Love Red Grant chooses red Chianti with his fish, while 007 chooses the appropriate white wine. However, he cottons on too late, admitting when captured, 'Red wine with fish... That should have told me something'. In Diamonds Are Forever he was quicker off the mark. Wint, disguised as a waiter gave Bond Mouton Rothschild and 007 said 'For such a grand meal, I had rather expected a claret'. Confused, Wint took the bait and claimed 'our cellars are rather poorly stocked with clarets', allowing Bond to rumble him because Mouton Rothschild is a claret.
Bond was also able to humiliate M with his knowledge, and did so in Goldfinger, Diamonds Are Forever, and The Living Daylights. Bond shares whisky with the new M, who keeps a stock of Bourbon in her top drawer. In The World Is Not Enough Bond shamefully has ice with his whisky (this ruins the taste), although this is a plot device.
Bond is always willing to tuck into the local speciality. In Japan he drinks Sake and knows the correct temperature, in Italy he drinks wine (but turns down Kristatos's preference) in Hong Kong he drinks and hates Phu Yuck, in Greece he drinks Ouzo, in Kentucky he drinks a mint julep, and in Florida Keys he even orders a beer to blend in with the crowd. top of page
In The Books
Fleming's Bond, like his creator, is a connoisseur of fine food and drink. In Casino Royale he invents a Martini on the spot and names it Vesper after the girl he was with. In foreign lands he likes to be adventurous, except in one or two known restaurants where he will take the same meal whenever he visits. At home he is very much a man of habit, with a particular love for scrambled eggs done in a special way by May, his housekeeper. The Vodka Martini remains a favourite of 007 too.
James Bond's Scrambled Eggs:
This is the recipe for the scrambled eggs, as preferred by Ian Fleming and 007 himself:
Ingredients for four people: 12 fresh eggs, salt and pepper, 5-6oz fresh butter
Break the eggs into a bowl. Beat thoroughly with a fork and season well.
Melt 40z butter in a small copper (or heavy bottomed) saucepan.
When melted, pour in eggs and cook over a very low heat, whisking continuously with a small egg whisk
While eggs are slightly more moist than you would wish for eating, remove pan from heat, add rest of butter, and continue whisking for a minute, adding finely chopped chives of fine herbs as you do so.
Serve on hot buttered toast in individual copper dishes with Taittinger and low music.