SAM WAS ADOPTED OCTOBER 6, 2006!
UPDATE: November 19, 2007
I just wanted to tell you guys again how happy we are with Sammie. He's been with us a little more than a year now and I think he finally knows he's home. It took him a good 8 months before he really started to "love us back". I think he has had such a bad history that it takes him a while to trust and open up his heart. He is such a love now. As I write this note, I am sitting in my club chair with my comforter, my feet up on the ottoman, and Sammie fast asleep laying between my legs with his head on my lap. He got a bath today so he's been walking around very proud. I think he felt the need to announce to the world how hadsome he looks and smells because he was barking a lot more than usual today! Sammie is so good in the tub. He just stands there and lets me wash him. When we're done washing, he loves being brushed and dried with the hairdryer.
Just wanted to let you know how much we love him. You did the right thing the day you rescued him from the shelter. I'm sure Sammie is happy you picked him to be saved that day, I know we are.
December 11, 2006 - Sam getting into the holiday spirit
October 22, 2006 - Sam practices for Howl-O-Ween!
Sam's First Day In His New Home: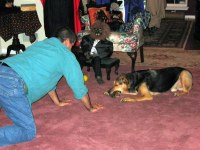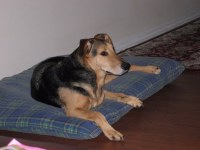 SAM'S STORY:
Sam is about 3-4 years old and weighs 55 pounds. We believe him to be a smooth collie/Doberman pinscher mix. He has a docked tail and we are always asked why. Our theory is that mommy might have been a Doberman pinscher so the puppies' tails were docked in hopes they were purebred. But surprise, daddy was obviously a collie! Sam possesses the classic Doberman traits like leaning into you, nudging with his nose for more pets and whimpering when he wants something.
Sam lived for quite a while with a broken wrist. Fortunately, we were able to have it repaired with carpal athrodesis surgery. He gets around great but will always limp slightly because his wrist is now fused and it won't bend. He does full flights of stairs up and down with no problem and because his fused wrist slows him down some, he walks beautifully on a leash.
Sam is crate trained and goes into his crate on command. He has nice manners and will sit for treats and for his food without being asked. Sam has been obedience trained. He is meticulously housetrained and will seek out his foster mom and whimper when he needs to go outside. When sleeping on a dog bed, he almost always sleeps with his body in the bed and his head on the floor. Sam bonds deeply with his family and is protective of his home. He has no experience with cats but likes other dogs and loves to play so he would do great with a playful dog who wants to romp and wrestle.