HOLLY (now Molly) WAS ADOPTED JANUARY 13, 2006!
Holly's First Day In Her New Home: (She is still wearing her e-collar from her spay surgery.)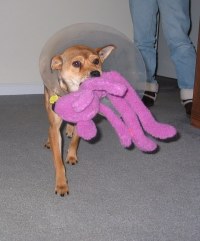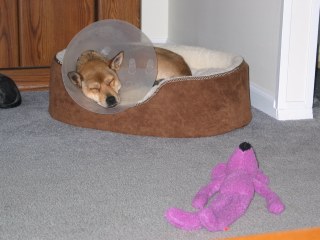 UPDATE: July 21, 2006
Just thought I would send a quick update. Molly is becoming the "social butterfly" around the neighborhood. Do you remember Bailey, the yellow lab from next door who came over to meet Molly the day you were here. Molly gave Bailey a little growl that day, but now they are the best of buddies. Bailey has come over to Molly's yard to play and Molly goes over to Bailey's yard to play. Her other buddies, Chelsea and Princess, also come over from time to time and they all just run and play in the yard together. Another neighbor around the block has a Beagle puppy who also wants to come over to play with Molly. It's amazing how many doggie friends she has. She absolutely adores our neighbors' three little girls (ages 3, 5 and 10). I just can't believe what a great little girl she is. It still amazes me that someone just left her, I don't know how they could have done such a thing. She is such a special little girl.
UPDATE: May 20, 2006
Thought you would all enjoy some cute pictures of Molly. The first couple of pictures are of her first boat ride!!! She was pretty nervous at first, but we think she'll do a little better each time because she really did enjoy sniffing the fresh air and watching the ducks and geese swimming in the lake. She didn't mind the doggy life vest at all!! There are also a couple of pictures of her playing with BoBo and sunbathing (a few of her favorite things!). Molly truly amazes me...today she has gone for 4 walks (that was four, it was not a typo), a bye-bye in the car and a boat ride and she is currently standing next to me with her bunny wanting to play...Molly is like the energizer bunny...she just keeps going and going and going...we just love her!!!!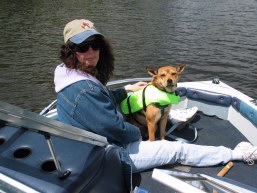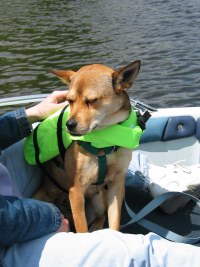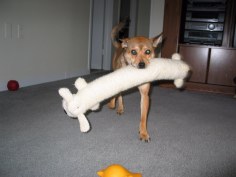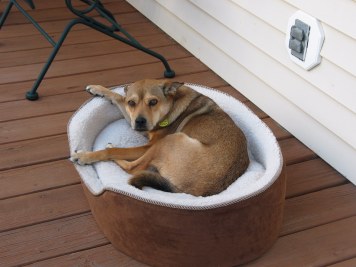 Holly's Story:
Holly only weighs 23 pounds and is about 1 1/2 years old. When tenants were evicted from their rental house, they trashed the place and abandoned Holly in the house with her 4 puppies. The landlord took Holly and her puppies to a shelter. The puppies were all adopted but Holly remained at the shelter in Virginia, waiting in vain for a home. We brought Holly back to New Jersey with us so she would have every chance of being adopted.
Holly gets along with other dogs and loves to play with toys. She is an absolute doll - very sweet and melts into you for attention. She sleeps quietly in her crate throughout the night. Holly will be available for adoption after she is spayed on January 7.