Freya
Vaga of Nidaross
Freya is in the middle with Saxon on the left and Greta on right with Brian climbing Snowdon.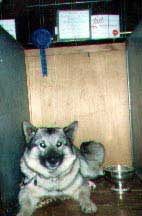 Freya after winning her 1st CC.
Bred by ourselves Freya won 2 CC's for us and quite a few reserve CC's, she was quite a showgirl. Freya was such a gentle bitch, she never seemed to let anything trouble her, she never did get her 3rd CC but came close many a time. Sarah had fun with her in junior handling and won many classes with her. Dordi and Freya were in competition with each other at many shows, one day Freya would win and the other day Dordi would win, it brings back many a happy memory thinking about Freya in the showring


Champion Svenson Thor, Christopher (quite a few years ago!) Vaga of Nidaross (Freya) and Valkirie of Norderhove.