INTERVIEW WITH TERAMI
I had the pleasure to sit down with Terami after one of her shows and ask her a few questions about her life, her work, and her debut album, "All Girl Band."
CB:
What's the deal with "All Girl Band." I read that you recorded it in three days in your apartment.
TH:
Yeah. I had an 8-track sitting in my apartment for nearly two months. I would sit and look at it. I would even turn it on. But nothing could inspire me to record anything worth mentioning. Finally, I got fed up, plugged it in and went to town. It was a burst of energy that forced me to create the album. If it was up to my sorry little internal clock, we'd still be in the Renaissance. Good thing the machine was making faces at me. It forced me to come to terms with things and join the planet earth.
CB:
Don't be too hard on yourself!
TH:
I'm just tired of people making excuses for waiting. What are we waiting for?
CB:
Well, a lot of your tracks are vicious self-criticisms. Why did you choose to make an album that is obviously about things that are hard for you to deal with?
TH:
I AM really critical! Maybe sometimes my reflections are to a fault...I can't really say. I was just sitting around feeling so sorry because I compare myself to really successful people. But my water heater was broken and my cat peed on my beanbag. I don't know. I think people need to know that this is the reality. I feel like I'm the first to stand up in a classroom and give the wrong answer. I'm totally ready to pass out from the stress of it all, but someone needs to break the ice. So I'll do it. I'll be the first one to admit that I'm DEALING with things. I actually have things to deal with!
CB:
So, how autobiographical are the songs?
TH:
100%. That's the point.
CB:
What kind of reactions have you had about what you're saying?
TH:
[laughs!] Well, my mom just turned pink and gasped for air. Some of my friends laughed pretty hard at the first song. I wasn't going for shock value. At all. I was just aware that I needed to be dead honest. But there are some tracks that are clearly not funny. There are things that are extremely personal. Some of what I say on the album are things I'm saying for the first time.
CB:
Is it more difficult to perform your songs live than it is to put them on a CD?
TH:
Wow. I think it's just different. It's one thing to hear from a friend that they like a track. It's another thing to see the look on peoples' faces when I deliver a line that's intense.
I did a show once where no one came except a few people from work. That was the most difficult show ever. It's always hard to disclose something and know that you're the only one putting your balls on the table. In the end, I went back to work on Monday. What are they going to say?
CB:
Have you always been this confrontational?
TH:
No. It's been an acquired thing. I used to just wish I was invisible.
CB:
So, then, what's your background? Where do you come from?
TH:
I was just a little kid in love with the piano. I studied music like crazy. I was a really good Bach impersonator.
I hid behind the piano for as long as I can remember. I used to stay home and doodle around the keyboard while other girls were playing with dolls. Although I did the classical thing for thirteen years, I knew I had some good stories to tell. It started out like a diary. The songs were really bad at that point. It's taken me YEARS to write a decent song and develop a style. I also had about the worst voice on earth.
CB:
Your style is really distinctive now. A lot of it comes from your vocals. How did you go from having a terrible voice to where you are now?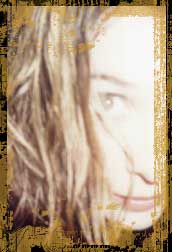 TH:
I just kept singing. I'd record myself a lot. I'm finally at the point where I don't cringe when I hear myself. Again with the self-criticism thing. I picked my style apart and worked on it until it sounded right.

CB:
Well, now that you've conquered your voice, your style, and you have this album, what's next?

TH:
I'm planning a little tour around the L.A. area. Right now I'm booking shows at larger clubs in town - trying to pull it all together. The best bit of it all is that I am doing this for myself. I'm already working on another album. Who knows? Whatever strikes my fancy, I can do. It's a wonderful feeling.

(To actually hear what we're talking about, take All Girl Band for a spin at cdbaby!)

For more information about Terami, visit her official site at terami.com