8. Though the surroundings seem bare, almost everything one needs for a good life is right here. Dyan Petropolis displays this painting in her very classy kitchen. Dyan herself is very classy and an inspiration to everyone she knows.



9. San Carlos, Mexico..kind of the ocean, kind of the desert. Like Donny and Marie ... a little bit country, a little bit Rock and Roll.



10. I did the wicker by removing burnt sienna with a paper towel. The colors in the leaves were allowed to run together and once again I picked out the highlights with a towel.



11. My sister, Annette, has lots of my paintings in her home. Not this one, though. She hates the ceramic chicken in the picture. I think she is whimsical. (the chicken, not my sister).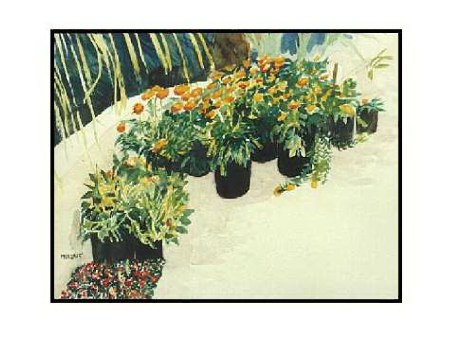 12. There is a lot of negative space in this picture. This is a family of Marigolds that lived in the Amado Nursery.



Thank You for Visiting

I would enjoy reading your comments, please

contact me

.