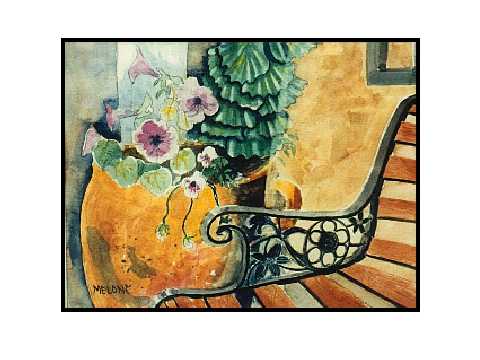 1.This flower pot and bench were outside Karin Newby's Gallery in Tubac, Arizona. Helen Nelson has this painting in her beautiful home in Tucson.



2.I like the way the light brought out the deep colors of the brick and the terra cotta on our patio in Tucson, Arizona.



3.Sweet Gail liked the way sunlight reflected off of our floor, so she asked me to make a painting of it. My good friend, Doug Ownbey, has this picture in his den in Crown Pointe, Indiana.



4. This pond and flower pot were in the Amado Nursery. My friend Diane Paulson like's this painting so much, I decided to call it "Diane's Poseys". Then she told me they weren't poseys at all. Too late.



5. My mother-in-law, Izora, had a small garden in front of her screen door. It seemed really cluttered, wild and overgrown in the rainy season. My good friend, Wendy Schmitzer, has this painting in her Scottsdale office.



6. My Uncle Joe and my best friend Vince Zagona both had paintings of Wrigley Field which I had done for them. They have both since passed away and this painting reminds me of the wonderful time we had when we all sat in the bleachers together. We also saw the White Sox, but that wasn't quite as cool.



7. My Uncle Joe and I also built greenhouses in our back yards. I used to spend a lot of time in the greenhouse. When I painted it, I made it look a lot bigger than it really was. That's OK, isn't it?






Thank you for visiting

If you would like a print of any of these paintings,

click here