Grandizer - Goldorak Toy - page
(La page officieuse sur les jouets de GOLDORAK)
Welcome, visitor #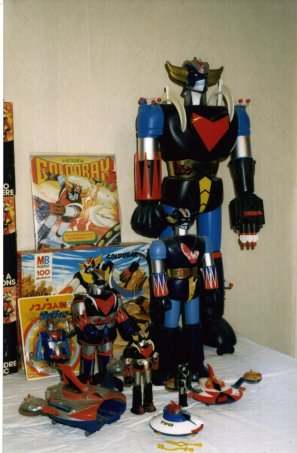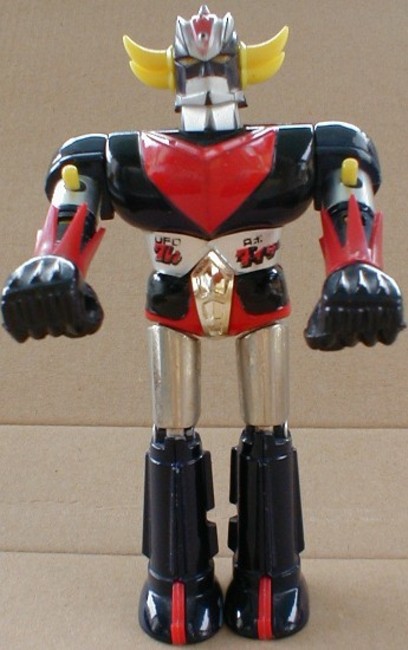 Grandizer has always been one of the most mythical robots in the Shogun Warrior line, mainly because he was the one we got to see on TV in France and Belgium when we were kids. There, he was known as Goldorak, and he became an instant success, first in black and white, then in color when our parents bought new TV's.
Collecting Grandizer toys has been a challenge, because there are so much around. Every week, I still discover new ones on the net or in toy-fairs. The pictures here are partly from my collection, and partly from what I was able to get from the net. I would like for help on this page, as it is very hard to get good photo-materials around. If you have a particular Grandizer toy that you would like to see here, send me the picture ! I will do my best to post it ASAP on this page. (geoffreypeeters@yahoo.com)
Click on the links to check the pictures. Each one has been saved separately, sometimes with different views of a box / a package etc.
Disclaimer: Grandizer/Grendizer/Goldrake/Goldorak/Grendiger are trademarks of Toei animation and Go Nagai. I am not affiliated with Toei nor do I profit from this work. This is a page for collectors from a collector. I acknowledge all copyright holders listed and unlisted (if unknown) for their source material: Go Nagai, Toei Animation, Bandai, Medicom, Marmit, Mattel, Popy, Joustra, Ceji, MB, Reel, Mondadori and others.
Last updated : 19/09/01
PLEASE CHECK MY OTHER PAGES AS WELL :
Geoffrey Peeters 2001 - Lisboa