This work can be considered as a theoretical assay about an architectonic-project-process epistemology, where arguments involved are: Architecture, Nature, and Entropy.
In the study, relation between Architecture and Nature point over the question what for? related to human creations. Architectonic projects are considered as second Nature creation.
The work presents a Center of Communications project as the opportunity to think about these issues.

Architecture
Looking up to Architecture in relation with Nature helps us to give new meanings to architecture interventions. It takes us -as human being- back to our primitive specie that achieves a unique capability: the will to create.
This point of view helps to conceive architecture project -the idea precedent- with a major responsibility that goes far through the individual intervention. It can be include in a wide purpose, which is the permanent creation of second nature over the planet.

The structure:
Hall/Foyer
Auditory
Amphitheater
Offices
Studios/classrooms

STRUCTURE LEVEL
CIRCULATION LEVEL

ACTIVITY LEVEL
Using a purpose -ending- as a wake up of new beginnings.
Using morphologic, functional and composition metaphor explored in first and second nature.

DETAILS OF AUDITORY BUILDING
Topics were developed and researched through a Communication Center architectural project developed under digital and analog techniques.
Entropy
During the execution of project an "entropy" process was discovered. This allowed a control methodology of project. It was admitted that the origin of any project is the human thought but entropy forces produce development, that determines some particular definition way and not any other way.

In this process small fluctuations can appear that require new and continuous thoughts decisions, and again further entropy auto-determination begins. So project process is a permanent switch between auto-determination and free-elections.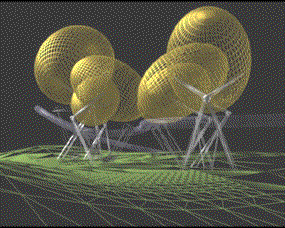 Nature
This small displacement determining the origin of creation act, allows us to get away from a braked and reductive view of environmental phenomena, where architecture is just physically matter laying over Earth surface. On the contrary, it promotes to conceive architecture as an integrated intervention over an existent world where constructed entities are organic interactive parts.

This is an approximation to classified:
-First nature: existent world
-Second nature: technology: artifacts constructed by man (cities, communication nets, scientific advances, tools)