Alert from one of are readers

I just obtained a new carton of economy size ravioli. The chef on the can looked just about irresistable so I decided I would try it out.
Upon taking the can out of the paper bag I opened the cheaply made tin container, and scooped out the oversize pasta which was covered in an objectionable tomato puree. I filled up a medium size stainless steel pot with the repulsive sauce and placed it on a front burner. I turned the dial to a low heat, and stirred the economy size portion. as I waited for the raviolis to cook I began to read the ingredients list.
The list read: Elmers craft paste, Crude protein, Artificial tomato puree, Crude fat, 3-n-1 household lubricant, Potassium sorbate, Red #5, Yellow #40, Blue #1, Rabit manure, Chicken manure, and nicotine.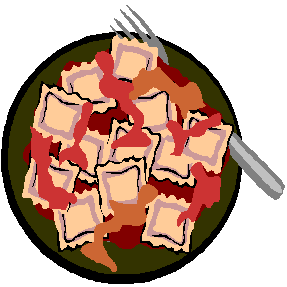 After reviewing the ingredients list the raviolis where looking rather vulgar and quite repulsive.
Now that the pasta was finished cooking, I scooped the nauseating substance out of the pot and into a large mixing bowl. I retrieved a large wooden spoon and began to eat the unclean manifestation. The Pasta tasted like corrugated cardboard, and the artaficial tomato puree gave off a rank odor.
An hour after I had finished the crummy raviolis I began to crave more of the smelly pasta. So I ran down to the local second hand grocery store to buy some more cans of Ravioli. I filled my whole cart with economy size containers of the addictive pasta.
I soon found myself eating four to five containers a day of the noxious gunk, and even worse now I am starting to smell like animal droppings.
It has been about five years sense I first got addicted to ravioli. I have been stricken with cancer from the poisonous colorings in the sauce. I am now not even able to move my right arm and they say I should die within a month.
Now I wish I never started doing ravioli.
Sincerly Frankie Hardy