Lorett'a Xena Web Site |
home



The Renee O'Connor
Biography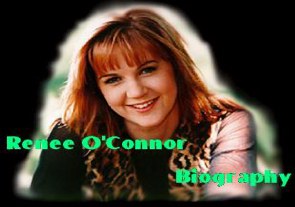 Born on February 15, 1971, in Houston, Texas, Renee O'Connor grew up in the suburb of Katy. She recalled studying acting from the age of twelve at Houston's Alley Theatre.
Renee's first, unconventional acting gig came at the age of sixteen, prancing through a Six Flags amusement park as a succession of costumed cartoon characters.
After a stint at the High School of the Performing and Visual Arts in Houston, Renee moved to Los Angeles to hone her sense of play as a perfessional actress.
In 1989, Disney cast her in the first of two serial dramas on The Mickey Mouse Club, "Teen Angel," reviving an old series favourite, "Spin and Marty."
Stretching from G-rated fare to HBO horror, Renee briefly appeared in an episode of Tales from the Crypt, directed by Arnold Schwrzenegger.
In 1991, she played Cheryl Ladd's daughter in the miniseries Changes. "It was a Danielle Steel novel," she volunteered with an embarrassing smile. Two years later, Renee starred as a group of students wshed away by a river in the NBC movie The Flood. "It was based on a true story in Texas but filmed in Austrailiam which wa so funy, especially since I'm from Texas. But it was pretty exciting."
Other feature films and TV roles followed. She appeared in another Disney Production, The Adventures of Huck Finn, with Elijah Wood and Jason Robards. "It ws asmall part but it was wonderful, filled with humor, a nice period piece set in Natchez [Mississippi]." A guest appearance on The Rockford Files "was one of the highlights for me because i was-and am-such a fan of James Garner."
Sandwiched between these and other performances, Renee appeared in two mythic action films for Renaissance Pictures: Hercules and the Lost Kingdom (1994) and the direct-to-video release of Darkman II: The Return of Durant (1995).
At her audition for the role of Deianeira in Hercules and the Lost Kingdom, Renee displayed considerably more humor than she had intended. Tapert's good humor never faded, and he encouraged Renee to continue. Despite her misgivings, Tapert viewed the audition as a success: he had not lost eqipment, he had gained an appealing lead actress.
When Xena: Warrior Princess was created in 1995, Renee won the key role of Gabrielle from a field of more than 400 aspirants. Willa O'Neill, who plays Gabrielle's sister Lila, called Renee "an incredibly giving actress" who made actin "a joy".
Renee summed up her approach to playing Gabrielle and her friendship with the Warrior Princess:
"Rob Tapert and R.J. Stewart were looking for somebody spunky, sprited, who could hold her own with Xena eventually, and so that was the guideline I began with. And then I took the idea of her being a storyteller and really clicked with that. Everything that she hadn't seen before but had only heard through stories and from her readings, she now could see herself living through Xena. And I made her very romantic, sentimental, and sympathetic, full of the wonder and mystery of life. So she woul be the opposite of Xena but wanted to be like her. And where Xena could be dysfunctional and Gabrielle would be her opposite, together they make one person!"
The five-foot-three-inch, reddish-blond, green-eyed actress looks far more youthful than her twenty-six years. She has a gentle, kindly manner that recalls her character Gabrielle, though Renee said she envies Gabrielle's unwavering optimism. Off-camera, Renee relaxes by rock climbing (her modest description for activities that have included ascending Mount Kilimanjaro!), kick boxing, jogging, rollerblading, and-in sharp contrast to Gabrielle-horseback riding.

Full Name: Reneé O'Connor Date of Birth: 15 February 1971 Birthplace: Katy, A Suburb in Houston, Texas, USA Martial Status: Single but has a Relationship with New Zealander Steve Muir, 30 years old, Brewery Manager Resides: Auckland, New Zealand Hair Colour: Strawberry Blonde
Eye Colour: Forest Green Height: 5'4 Family Background: Has One Brother, Chris who is 28 Years Old Languages: English Pets: One Cat Named Kia Ora (Means Hello and Goodbye in Maori) Nicknames: Ren, Stumpy, Vertically Challenged Book Interests: Non-Fiction, Classic Literature, American and Irish Playwrights, History, and Novels from other Countries
Favourite Colour: Teal Favourite Music: Sinead O'Connor, Tina Turner, Elton John, Rod Steward, The Police, Celine Dion and Elvis Costello Favourite Xena Episodes: A Day in the Life, Return of Callisto and Been There Done That Hobbies: Roller Blading, Books, Travel, Movies, Rock Climbing, Kickboxing and Extreme Sports Acting Age: Started at eight, began professional work at eighteen Previous Jobs: Aerobics Instructor and Waitress Future Ambitions: Directing and Acting in Other Films
Renee O'Connor's

Wedding Photos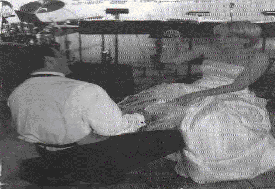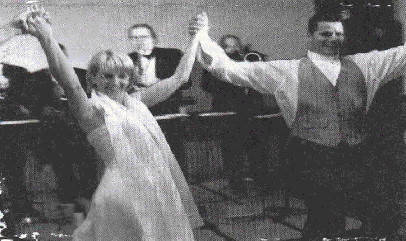 THANX TO XENAPLACE

"Hello everyone! It's about time we dropped a note thanking "all ya'll"
for the generosity you showed when we were married. The letters of
congratulations were greatly appreciated. Also, raising money for charity
was the perfect way to show your good wishes for us. We were truly amazed
and humbled by such a force of benevolence. We had a wonderful wedding
day, surounded by our families, and we hope to take a long, relaxing
honeymoon sometime this year. Thanks for showing that again, the Xena fans
ROCK!
Renee O'Connor & Steve Muir"
Renee O'Connor's

FILMOGRAPHY

Black Snow
1989

Night Game
1989

Match Point
1989
Teen Angel
1989
False Identity
1990
Tales from the Crypt:
The Switch
1990
Danielle Steele's 'Changes'
1991

Stone Cold
1991
Arresting Behavior
1992
The Flood: Who Will Save Our Children?
1993
The Adventures of Huck Finn
1993

NYPD Blue ("Oscar Meyer Weiner" Episode)
1993

Darkman II:The Return of Durant
1994

Hercules and the Lost Kingdom
1994

Follow the River
1995
The Rockford Files:A Blessing in Disguise
1995

Xena:Warrior Princess
1995-

Hercules and Xena-The Animated Movie:The Battle for Mount Olympus
1998
Rubbernecking
1998
Renee O'Connor's
Contacts
Letters to Reneé
Reneé O'Connor
The Reneé O'Connor International Fan Club
P.O. Box 180435
Austin, TX 78718-0435
http://members.aol.com/Rocweb