There is a great tradition of poetry and music in Sikhism. It is a joyous faith, filled with friendships and a love of life.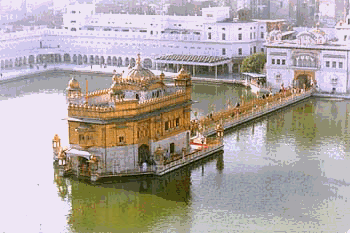 Call of the Gurdwara
Come in from all directions,
only please cover your head.
Come down the steps, leaving behind your titles,
listen, and reflect as you please.
With no one to cajole you,
safe, in peace.
Listen to the Word,
listen too, to the tales.
We will listen too,
if you have something to say.
You are all so welcome,
please stay.

- Unknown (CyberSikh)
Reflections
Ah! Well, let my hair grow long;
I cannot forget the knot He tied on my head;
It is sacred, it is his mark of remembrance.
The Master has bathed me in the light of suns not yet seen;
There is eternity bound in this tender fragile knot.
I touch the sky when I touch my hair, and a thousand stars twinkle through the night;
Yet a single hair is a dear remembrance, an heirloom, a trust, a pledge, a love, a vow, an inspiration.
My form is but a statue of dumb gratitude for the knot of Friendship tied by those Kings of Eternity, the Gurus who came to the Punjab.
The Saviours who were gracious to love me and made me a home in the Realm of Eternal Beauty.

- Unknown (CyberSikh)
Why do you wear that???
This is my Turban. It is a symbol of my faith and religious life. There are hundreds of years of service and tradition bound within this fabric. I am a Sikh. Proud of my heritage and willing to let the world know.

- Gurfateh Singh
Dastar
The turban of a Sikh is both a crown of honour and a guard against injustice.
I am most proud and privileged to wear such a raiment.

- Gurfateh Singh
"Papa ji, Sikhs are saint soldiers, so why do some Sikhs do bad things?"
The Sikh path is one of honour and justice;
To be a Sikh is to live in joyous wonder and to experience the world with love.
Some fall from this path because they cannot meet these classic values and loose faith;
Some fall from this path because they prefer the joys of the material world to the joy of the Ultimate Reality;
And some fall because they have insufficient honour and justice within them to wear the turban…

- Gurfateh Singh
"Papa ji, what is Waheguru like?"
God is of spring sunshine...
Warm, comforting, and full of promise.
No cold and sterile illumination is the creator.
But a golden radiance,
That envelopes and protects,
All who realise the Word.

- Gurfateh Singh
'Are you really all called Singh?' said Nicky in a half-whisper.
'Yes. It was an order of the guru three hundred years ago that all Sikhs are called Singh. It means "lion", and we are a solider people.' He spoke very proudly and seriously.
- The Changes, Peter Dickinson.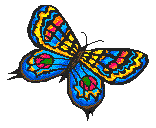 In Memory of a Sat Sikh
The Khalsa, Nihangs and the Five K's
Embracing Sikhism and the Turban
Baisakhi '99 - Sydney | Sydney Sikhi | Turramurra Gurdwara Tour
Baisakhi '99 - Woolgoolga | Woolgoolga (Holiday Coast)
Rabab Revival Project Adventures
Sardar Sardool Singh ji
Singaporean Sikhs
Indian Gurdwara's
My first visit to a Gurdwara | My second visit to a Gurdwara | My Sikhi Wanderings
Why I answered the Guru's call | Dreams | My World Wanderings
On Becoming a Sikh…
You may be interested in my decision to become a Sikh. I embrace the Sikh view point because it holds that all faiths have value and that service in all forms is a celebration of the unity and strength of humankind. Sikhs view everyone as equal and their worship is part of this view. For a Sikh honest work is a form of worship. If they are honest and help others day-to-day they are following the Guru's teachings. Sikh's do not have a god as such, they have the Ultimate Reality. The universal force of everything. The idea is really much the same, and the term 'God' and the 'Ultimate Reality' are interchangeable. It's the message that's important, not the semantics.
There is a great tradition of poetry and music in Sikhism. It is a joyous faith, filled with friendships and a love of life. The Guru Granth Sahib is composed of the lyrical works of the Guru's, along with works from poets of Hindu and Islamic heritage. I've even tried my hand at a few poems over the past few years. I've added them to my Sydney Sikhi pages further on for your enjoyment.
You may not know what brought me into Sikhism. It was a process that took many years. As a teenager I read a book, The Changes, that had Sikhs in it, they were like the knights of old. Men and women who did what was right, helped those they could, worked hard, and fought for justice. Their honesty was uncompromising. Then I came to know of Sikh writers and read of their wisdom. I then met some Sikhs and learned more. I was inspired by Mystical Traveller by Dya Singh (audio) and The Four Quarters of the Night (The Life-Journey of an Emigrant Sikh) by Tara Singh Bains and Hugh Johnston (text). I went to India twice and discovered more of the nature of Sikhi. When I returned, Yanee Singh jnr. died in a car accident in Greece. He always said that life is too short. I realised that my mate was right and I followed my heart and embrace the Guru's teachings.
In 2000 / 2001 I spent a year helping Chris Mooney Singh ji with a community school and music revival program in India. It was a great adventure. Good times I would not have missed for the world. I'm still involved as the web master for the Rabab Revival Program. (Rabab Revival Program) (Rabab Revival Program).
The program involves a group of fellow Sikhs who are looking to revive ancient Indian musical traditions. This will involve historical research, the crafting of musical instruments, training in Indian musical traditions, learning instrument playing, supporting the Sikh youth, and the creation of an orchestra. We are also planning to export instruments throughout Southeast Asia and tour the orchestra.
---
© Gurfateh Phil Singh
Here in the Punjab, the burnt blue hue of the Indian sky is more mellow, seeming to reflect something of the richness of the sweeping lands below.