Deniz's
The ultimate guide to the new
Sinéad O'Connor album.
Introduction
Release Date
Tracklisting
Title
Contributers
Press Releases
Cover Art
Singles
---
Introduction
Sinéad O'Connor's highly anticipated new album is her first full length release since 1994's critically acclaimed Universal Mother. O'Connor has contributed to many albums by other artists and numerous compilations during the past six years. She also released an EP titled Gospel Oak in 1997, followed by a best of album and a single. That year, after her long time label Chrysalis/EMI closed its doors, she signed a special long term contact with Atlantic Records. Sinéad is known to be working on this album since 1998.
back to top
---
Release Date
The album was originally scheduled for a 1998 release, but for mostly personal reasons on Sinéad's side, it didn't get released that year. 1999 didn't see its release, either – though again it was reported on many sources that the album would be out in the summer of that year. At the beginning of this year, the release date of the album was announced as May 23, but shortly afterwards it was postponed to June 6. Finally, the relase date was re-scheduled as June 13, which turned out to be the actual date for the US and most of the other countries. UK saw the release one day earlier, on June 12.
back to top
---
The Healing Room
No Man's Woman
Jealous
Dancing Lessons
Daddy I'm Fine
Til I Whisper U Something
Hold Back The Night
What Doesn't Belong To Me
The State I'm In
The Lamb's Book Of Life
If U Ever
Emma's Song
Kyrie Eleison
Japanese and Australian versions of Faith and Courage contain a bonus track at number 14:
Emma's Song (Adrian Sherwood Remix)
Check out Atlantic's Official Sinéad Site for sound clips and videos!
There are also the following song titles registered under the name Sinéad O'Connor in BMI, an online database of copyrights, writers and singers. The titles are on BMI since 1997, and none took place in the Gospel Oak EP, so it's doubtful weather they will even appear as b-sides.
All I Want
Calling Me Princess
Children Of Lir
Drowning Again
Everything Comes From You
Israel
Last Saturday Night
Married Man
Mother Ireland
Rescue Me
Seal In Your Heart
Sit Easy Beside Me
Some Disease
Someone's Baby
Speak And Spell
Stop Sending Me Love Songs
Besides these songs, the following number was performed live in some concerts circa 1998:
Diana (aka Bridget A Diana) written for the late Princess Diana.
---
Title
There has been some titles going around for the last three years, all of which took place in magazine and newspaper articles, and were never officially announced. They are as follows:
1997: Green On Black
1999: I Thought You Were Lost
2000: Full Circle
The final title for O'Connor's new release is:
Faith and Courage
back to top
---
Dave Stewart
O'Connor started recording her new album in 1998 with Dave Stewart as the producer. Stewart is best known for his legendary duo with Annie Lennox, Eurythmics. He's also a noted producer and has a London based studio called The Church, in which artists as diverse as The Cure, Jon Bon Jovi, Erasure, Manic Street Preachers, Nick Cave, Texas, Chrissie Hynde, Pet Shop Boys and Supergrass recorded.
Scott Cutler and Anne Preven
Cutler and Preven are responsible for Natalie Imburglia's smash hit Torn. They are members of a former band called Ednaswap. The State I'm In, a song on Faith and Courage, is written by the duo and originally an Ednaswap song.
Adrian Sherwood
Producer for Primal Sream, Depeche Mode and Bim Sherman. Sherwood is the leading producer of the On U-Sound team, an experimental reggae project.
Skip McDonald
A famous guitarist, McDonald worked with Bomb The Bass, Bim Sherman, Adrian Sherwood, Alan Branch and Talvin Singh.
Wyclef Jean
After the multi-platinum Fugees album The Score, each three members of the successful hip-hop band leaned more on solo projects. Jean also produced for many artist and released a solo album in 1997. One of his most recent work include production for Whitney Houston and Santana.
Kevin "She'kspere" Briggs
One of the top R&B producers nowadays, Briggs produced and co-wrote many number one songs, among which are Destiny Child's Bills, Bills, Bills and TLC's No Scrubs. He also appears on the new Mariah Carey album with a song titled X-Girlfriend.
Brian Eno
Shortly after Stewart, the ambient genius Brian Eno also got involved in the the new O'Connor album. U2 and James are among the most known examples of Eno's skills.
John Reynolds
O'Connor ex-husband and long time friend Reynolds co-produced and co-wrote her previous album Universal Mother. Reynolds also produced all the tracks from 1997's Gospel Oak EP. Indigo Girl's latest album is among the projects he took place recently.
Alan Branch
Branch is also involved in engineering of the new O'Connor album. Icelandic phenomenon Björk is among the artists who benefited from Branch's skills.
Bim Sherman
Reggae/dub singer Bim Sherman is responsible for the spoken-words on Kyrié Eléison. Sherman lost a long and courageous battle with throat cancer in 2000, a few months after the album came out.
Ash Howes
Howes mixed and engineered some tracks from Faith and Courage. All Saints, Texas, Eurythmics and Faithless are among the artists he worked with before.

The following names were mentioned in articles, but their contributions didn't make it into the album:
Cameron McVey
Phenomenally successful trio Massive Attack and the R&B band All Saints are among the artists McVey worked with previously.
William Orbit
The success of Madonna's previous album Ray Of Light made Orbit very famous and a sought-after producer. He worked with the British band Blur afterwards, in their sixth album, 13. O'Connor's collaboration with Orbit –who worked on the new Madonna and All Saints albums– is believed to have been unfruitful.
Marius DeVries
A noted producer and keyboard player, DeVries appeared on all Bjork albums and he also worked with Madonna on her last two albums. Annie Lennox, Neil Finn, Howie B and Nellee Hooper are among the artists he collaborated with. DeVries's collaboration with Sinéad appears as a b-side on the Jealous single, Summer's End.
back to top
---
Press Releases
Here's an early press release from Atlantic Records:
Sinéad O'Connor has been a revolutionary force in popular music for more
than a decade and now Atlantic Records is proud to release an extraordinary
new work from the acclaimed and always outspoken artist. "Faith and Courage"
-O'Connor's highly anticipated label debut and the first all new, full-length
album in six years- is a strikingly expressive collection of songs that
transverse the human experience, touching on such universals as love and
lust, respect and responsibly, strength and spirit.
From the anthemic self-determination of the albums first single, "No Man's
Woman," to the evocative and poignant "Summer's End," O'Connor blends edgy
pop, space-age electronica, and street-smart R&B into her own special sonic
brew. Sinead is an artist who has always avoided being trapped by musical
boundaries and on "Faith and Courage" she is assisted in her musical journey by
a breath-taking lineup of producer/artist, including Eurythemics' Dave
Stewart; Brian Eno and John Reynolds; Wyclef Jean; On Your Sound's Adrian
Sherwood and Skip MacDonald; Marius deVries (Madonna, Bjork) and Ashtar
Command; Ednaswap's Scott Cutler and Ann Preven; and Kevin "She'kspere"
Briggs (Mariah Carey, TLC, Destiny's Child). With O'Conners magnificent voice
and vision ringing clearly thoughout, "Faith and Courage" is a vibrant,
passionate, and unique as the women whose name it bears.
back to top
---
Cover Art


back to top
---
Singles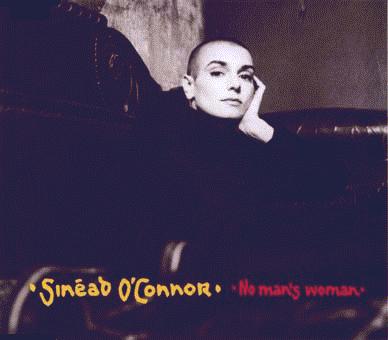 No Man's Woman (Album Version)
This Is A Rebel Song (Remix / Non-Album Bonus Track)
Her Mantle So Green (Non-Album Bonus Track)
The first single off the album is No Man's Woman, which enjoyed an extensive airplay worldwide. Check the video on instavid.com.
Jealous is the second single off the album, and was released troughout Europe on September 29, with the catalogue number 7567-84889-2. The tracklisting is as follows:
Jealous (Album Version)
Summer's End (Non-Album Bonus Track)
this version differs to the one on The Avengers OST.
Full Circle (Non-Album Bonus Track)
Check the video on instavid.com.
---
DENIZ CEBE
© 2001 Universal Mother
Last updated February 10