Deaf Bassmaster Invitational
hosted
at
Oneida lake, New york
on
July 17 & 18, 2010
Where at, the Brewerton boat yard 5405 bennett st. brewerton, NY.
the meeting will be at brewerton boat yard on july 16, at 7:00 pm.
contact vincent sabatini email basslunker40@aol.com
prize
final overall champion
1st 1000.00
2nd 500.00
3rd 400.00
4th 300.00
5th 225.00
6th 175.00
7 th 150.00
base on 10 boaters
Motel, campground, and tackle stores
Oneida shore county park campground, 315 676 7366, http://onondagacountyparks.com/oneida
Holiday inn, 315 699 8849
bel-air motel, 315 699 5991
town country motel, 315 699 6751
gander mountain 5864 Carmenica Drive Cicero, NY 13039

rat river marina and tackle store, brewerton, ny .... not far from brewerton boat yard.
rules
1. Tournament fees are $125.00 per boat. Entry fee must be paid by Saturday, July 10, 2010 by mail
Late Entries will still be accepted at the ramp or door and will be charge 10.00 dollars
2. All entrants must wear a coast guard approved vest or preserver when the motor is pushing
the boat and one cushion and
Flare
3. Tournament scheduled rain or shine. If cancellation is necessary due to severe weather.
4. All fishing must be done from a boat. Each boat can consist of no more than 2 people.
5. Each person is responsible for seeing all rules of safety and sportsmanship are followed.
6. Only 10 fish per boat will be weighed.
7. Fishing is permitted anywhere within the tournament waters, or connecting waters accessible
by boat during specific times except there is no fishing within 50 yards of contestants
8. Tournament is Bass only, inc Largemouth and Smallmouth
9. Only artificial lures will be permitted. Trolling as a method of fishing is prohibited.
10. All fish must be lakes length 12" (closed mouth). There will be a 1 lb deduction
for short fish.
11. All live wells will be checked before start of tournament on Saturday and Sunday
12. Start will begin at 5:00 AM or first safe light, with all boats to blast off
13. All participants must be checked in before 5:00 AM for rules and regulations
14. Participants must be present for weigh in by 2:00 PM sharp on Saturday and at Noon Time sharp. A 1lb penalty will be issued for
each minute late. 15 minutes late will disqualify the team. No exceptions.
15. Winners are determined by overall weight. Ties will split money evenly between teams for each place.
16. Each team member must have a valid New York fishing license.
17. Any occurrence not covered by the rules will be governed by tournament directors.
18. Any breach of the above rules will result in automatic disqualification. All interpretation of the above rules is subject to
Eastern Penn-Jersey Deaf Bass Anglers Tournament Committee. All decisions by the committee are final.
Oneida lake - map info - sponsorship
Oneida Lake
Oneida Lake, located ten miles north of Syracuse in Oneida and Oswego Counties, is the largest lake lying wholly within New York State. Oneida Lake is a relatively shallow natural lake with an average depth of 22 feet and is named for the Iroquois Nation Oneida Tribe. The Oneidas called the lake "Tsioqui" or "white water", a reference to the wave action on the lake on windy days.
Physical Features
Elevation: 370 Feet
Area: 50,894 acres
Length: 21 miles
Maximum Width: 5.5 Miles
Maximum Depth: 55 Feet
Plant Life
Since zebra mussels entered the lake in the early 1990's water clarity has improved considerably. This has resulted in increased aquatic vegetation growth. Oneida Lake has very good weed growth, especially along the shoreline and in the larger bays. Vegetation is most abundant in 5 to 15 feet of water; however with the greater water clarity some vegetation may be found as deep as 20 feet.
Public Access
Madison County
South Shore - off Route 31, one mile east of the hamlet of Bridgeport. Concrete ramp. 100 cars and trailers.
Oswego County
Taft Bay- Route 49, 2 1/2 miles east of the village of Constantia. Ice Fishing Access.
Three Mile Bay - off Route 49, five miles southeast of the village of Central Square in the Three Mile Bay Wildlife Management Area. Beach launching. Parking for 20 cars and trailers.
Toad Harbor - off Shaw Road from Toad Harbor. Shoreline access and hand launching. Parking for 30 cars.
I-81 - Swamp Road at the I-81 crossing. Shore access.
Oneida County
Godfrey Point -adjacent to route 49, one mile east of the village of Cleveland. Hard Surface ramp. 56 cars and trailers.
Verona Beach State Park-off Lake Shore Rd. in Verona Beach. Shore and icefishing access
Onondaga County
Brewerton- off Bartell Road, at the I-81 crossing in Brewerton. Shore access.
Oneida Shores County Park- off Bartell Road in Brewerton. Paved launch. Parking for 100 cars and trailer. Fee.
*There are numerous private marinas and boat launches located around the lake.
General Fishing Information
Gamefish present include walleye, smallmouth and largemouth bass, northern pike, pickerel and tiger musky. Panfish present include yellow perch, black crappie, bluegill, pumpkinseed sunfish, white perch, white bass and bullhead. Channel catfish, freshwater drum (sheephead), and carp are also found in good numbers. Oneida Lake is a fantastic bass fishing location, and numerous bass fishing tournaments are held each year on the lake. Oneida Lake has become a popular tournament stop for professional bass fishing organizations such as BASSMASTER and FLW. Smallmouth bass can be caught around the many shoals on crayfish, minnows, tube baits and crankbaits. Largemouth bass are found in the larger bays and anywhere there is good vegetation growth. Spinnerbaits , crankbaits, topwaters, jigs, tube baits, rubber worms and minnows all work well.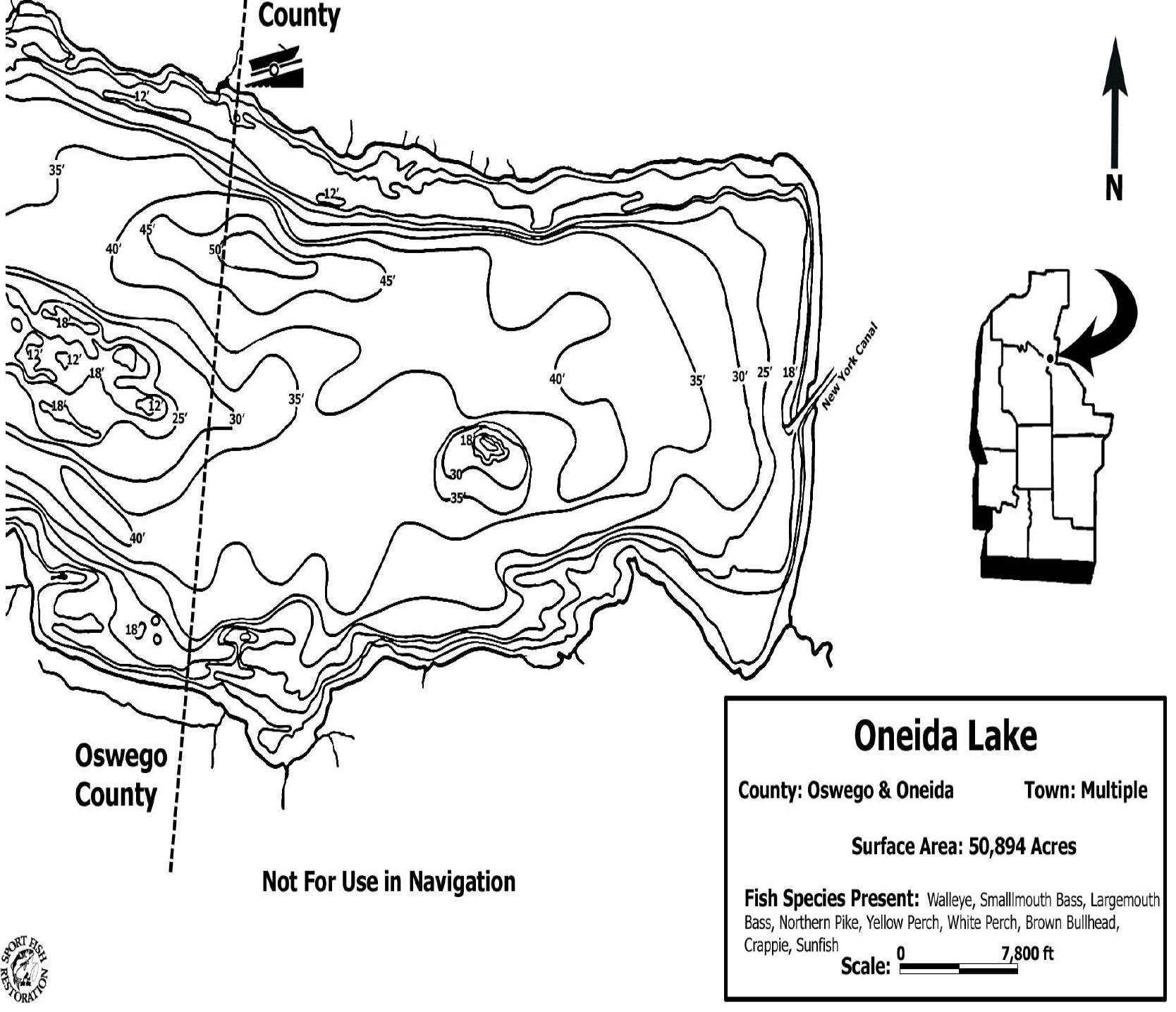 Dangerous Spot Map For Boaters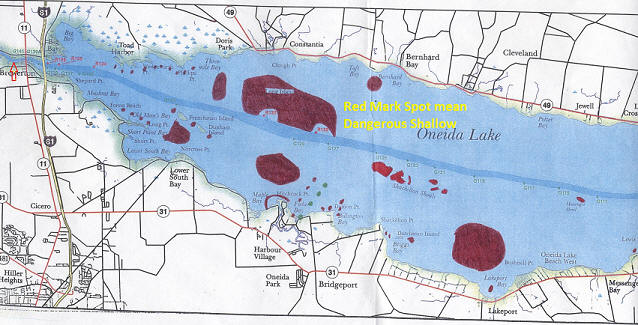 Click here More Info Vexilar Log
NEW