AVIMAR
WATCHES
for Divers & Special Forces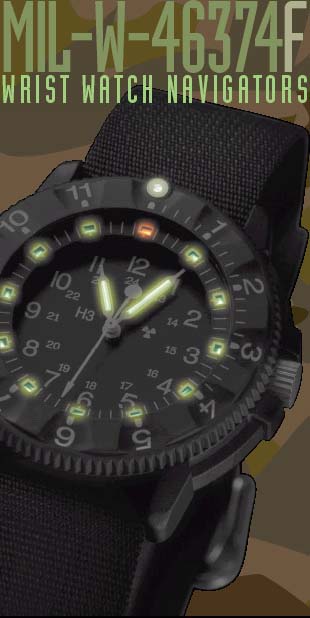 Gaseous Tritium Light Sources (GTLS)
The technical term for the unique H3-light is a Gaseous Tritium Light Source (GTLS).
Day-Night Effect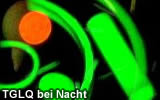 These prictures show you the day-night effect
These low level light sources have unique properties, they are unaffected by water, oil and most corrosive materials an require no external power source or exposure to light in order to work. Quality control is the dominant consideration in the labour intensive manufacturing process H3-watches go through. They are 100% inspected for dimensions, brightness, temperature, thermal shock an Tritium leakage. Random sample testing is performed continually for discolouration, brightness decay, reduced pressure an vibration effects.
They remain fail-save and maintenance free and have a useful life in excess of 10-20 years.

With the micro-gas lights built into hands, hour marking and bezel of the watch whether it be midday, midnight or five in the morning, the time displayed on the face of the watch is readily visible at a glance. The most effective colours for human eye perception are generally green and yellow or orange as these are the preferred colours due to the eyes maximum sensivity to them.
GTLS means there is no need to hold a H3-watch up to the light and you won´t need to press anything to see it – just a quick glance will give you the correct time, anytime day or night – leaving you free to concentrate on whatever you´re doing.
Each H3-light is a laser sealed borosilicate glass vial which has been coated internally with phosphor. In one single process the H3-light is sealed by a CO² laser and injected with gaseous tritium. The low energy electrons emitted by the tritium, excite the phosphor and this creates a cold energy which produces al low level light without filaments or heat dissipation and no risk of fire or explosion.
The H3 watches are the current issue watch for the real professionals and more than 300.000 US military personnel currently utilise this unique timepiece.
Designed and constructed to MIL-W-46374, are chosen by the world´s elite military units, emergency services and are an absolute must for adventurers and sports people alike, continuing to prove themselves in active duty around the globe!
---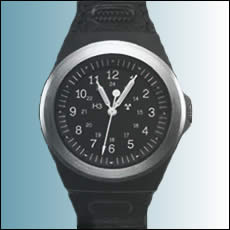 P5900
Navigator / Type3
Waterresistance: 30m / 99 ft
Case material: polyester
Crystal: mineral
Strap: textile
Case size: 45mm
Art.Nr.: P5900.506.33.01

MIL-W-46374F-TYPE 6
NAVIGATOR/TYPE3 WATCH
MILLICURIES-UNDER 25-3H
---

P5900 (with date)
Navigator / Type3 Date
Waterresistance: 30m / 99 ft
Case material: polyester
Crystal: mineral
Strap: textile
Case size: 45mm
Art.Nr.: P5900.506.33.11

MIL-W-46374F-TYPE 6
NAVIGATOR/TYPE3 WATCH
MILLICURIES-UNDER 25-3H
---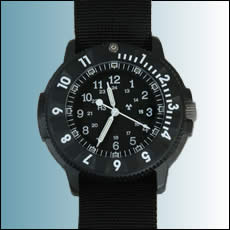 P6500
Navigators / Analog
Waterresistance: 30m / 99 ft
Case material: polyamide
Crystal: mineral
Strap: textile (MIL-S-46383)
Case size: 45mm
Art.Nr.: P6500.405.33.01

MIL-W-46374F-TYPE 6
6645-01-364-4042
MILLICURIES-UNDER 25-3H
---

P6500 (with date)
Navigators / Analog Date
Waterresistance: 30m / 99 ft
Case material: polyamide
Crystal: mineral
Strap: textile (MIL-S-46383)
Case size: 45mm
Art.Nr.: P6500.400.33.01

MIL-W-46374F-TYPE 6
6645-01-364-4042
MILLICURIES-UNDER 25-3H
---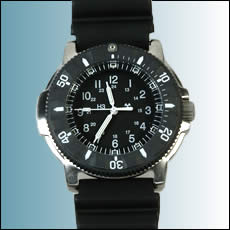 P6502
Navigator / Diver
Waterresistance: 200 m / 660 ft
Case material: stainless steel
Crystal: mineral
Strap: rubber
Case size: 45mm
Art.Nr.: P6502.420.32.01

MIL-W-46374F6
NAVIGATOR/DIVER DATE
MILLICURIES-UNDER 25-3H
---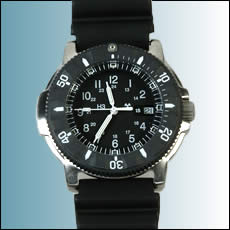 P6502 (with date)
Navigator / Diver date
Waterresistance: 200 m / 660 ft
Case material: stainless steel
Crystal: mineral
Strap: rubber
Case size: 45mm
Art.Nr.: P6502.425.32.01

MIL-W-46374F6
NAVIGATOR/DIVER DATE
MILLICURIES-UNDER 25-3H
---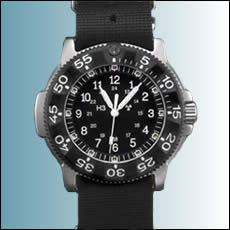 P6506
Navigator / Commander Titan
Waterresistance: 200m / 660 ft
Case material: titan
Crystal: saphire
Strap: textile
Case size: 45mm
Art.Nr.: P6506.435.32.01

MIL-W-46374F6
NAVIGATOR/ COMMANDER TITAN
MILLICURIES-UNDER 25-3H
---

P6506 (with Date)
Navigator / Commander Titan Date
Waterresistance: 200m / 660 ft
Case material: titan
Crystal: saphire
Strap: textile
Case size: 45mm
Art.Nr.: P6506.430.32.01

MIL-W-46374F6
NAVIGATOR/ COMMANDER TITAN DATE
MILLICURIES-UNDER 25-3H
---
Please contact for the competitive prices





Additional Links
Please contact us :


avimar.usa@gmail.com