The Project
Your Dream Site

Your dream Site is situated just 6 kms from the airport and 10 kms from the heart of Chennai. The site, Manapakkam, is one of the last stretches of verdant green in this metropolis and this prestigious project is designed to come up as a Comfortable blend of Nature and Technology. The location offers equally easy approaches to the shopping, academic, industrial and business districts of bustling Chennai.

Think of it: A wide range of residential units for over 700 families in one majestic combine. Which is why we say, your Home is indeed going to be a Whole Town. And when you consider all those thoughtful amenities included, you may come to the delightful conclusion that it could become your own, cosy Home Town.
---
A flowery bower marked by hi-tech construction and superbly designed amenities.
Where the pathways are floral tributes, and the living space is a heaven of peace.
Where Privacy is protected along with Sophisticated Socialising,
And Nature co-exists with state-of-the-art amenities.
Where the Individual and the family needs are catered to in luxurious hospitality,
And Expansive choice comes in the form of Exclusive independent houses, Deluxe twin houses and a superb range of Apartments.
The Brindavan
Click on photograph above to view enlarged image.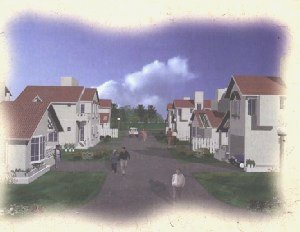 A cosy Microcosm where you can feel
the vast Macrocosm.

Make your choice now, from the exciting range of houses detailed in the following pages, and contact V.A. Constructions who will extend all help to translate your desire into reality.
A Green Layout that exudes Class and Comfort. Set by the side of river-punctuated rolling meadows, And carefully designed, with you in mind. There are delightfully tempting options of Independent houses and Twin houses to cater to connoisseurs of the Good Life...
.... And over that are positioned to give you a warm social life; With amenities such as private telephone exchange, shopping mart, gym, club ... that will enhance your social mobility; Absolute security is assured, with efficient and reliable systems; And
of course, ... all those flowers.