The Promoters
The APN Group of Companies founded by late Shri.A.P. Nagarajan consists of Shree Vijayalakshmi Pictures, A.P.N. Dubbing Theare, C.N.V. Constructions, Adithya Arcade and A.P.N. Hotels Pvt. Ltd.
The Group has diversified from Producing / Recording and Dubbing movies to Property Development and Hotel Industry. Shree Vijayalakshmi Pictures has produced a number of blockbuster movies; A.P.N. Dubbing Theatre has done Recording and Dubbing for more than 1000 films;
C.N.V. Constructions has an enviable track record over several years of developing properties; Adithya Arcade is a commercial complex in Adyar and A.P.N. Hotels Pvt Ltd has promoted a Three Star hotel in Palani by name, Temple View.
The Anand Group of Companies founded by Shri. Ananthakrishnan in 1964 manufactures Chromebased chemicals under Anand Chromates Pvt Ltd.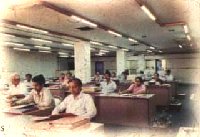 The company also operates a windmill. Majestic Enterprises Pvt Ltd manufactures nylocasts. Distribution of industrial chemicals and bulk drugs is carried out by Anand Industrial Chemical Suppliers and Trishul Chemicals. Siddhi Vinayagar Farms is engaged in farming activities on a large scale. The group represents major companies such as Grasim Industries, Rashtriya Chemicals & Fertilisers. Periyar Chemicals, Jayant Vitamin Ltd, Camphor and Allied Products Ltd etc.
The two groups came together to promote Residential Apartments under the name and style of V.A. Constructions, which has successfully completed a massive residential complex- Sangeeth Apartments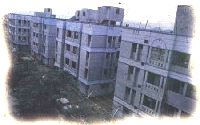 - consisting of 70 luxury flats with facilities like telephone, water treatment plant, dish antenna, gymnasium, and badminton courts-in Guindy.
Now V.A. Constructions is all set to offer the discerning, quality-conscious buyer, a whole new concept in housing - The Brindavan - a self-contained township of around 100 independent houses and 600 deluxe apartments at Manapakkam, Chennai.
M/s. Shilpa, a firm of leading Architects and Interior Designers of over two decades' standing, is headed by Mrs.Shiela Sriprakash, the Chief Architect. Well known for its range of designs - from independent houses to colonies and office complexes to industrial buildings - the Shilpa team, comprising architects, engineers and design professionals, provides complete consultancy support in the form of design and project management services, from Conceptualisation to Execution.