Alan H. Pearl
New York, NY 10023


APearl4931@aol.com
---
Table of Contents
Bipolar Disorder
What is Panic Disorder?
Anxiety Disorders
Key Features of Obsessive- Compulsive Disorder
What is Depression?
Depression Co-Occurring with a Medical Illness
Links to Other Sites


---
Bipolar Disorder
Bipolar disorder, which is also known as manic-depressive illness, is a mental illness involving episodes of serious mania and depression. At least 2 million Americans suffer from bipolar disorder, which typically begins in adolescence or early adulthood and continues throughout life.
People who suffer from bipolar disorder may do so needlessly for years or even decades if they are not properly diagnosed. Bipolar disorder sufferers may experience such devastating effects as marital break-ups, job loss, alcohol and drug abuse, and suicide.
Think of the various mood states in manic-depressive illness as a spectrum or continuous range. At one end is severe depression, then mild and brief mood disturbances, then normal mood, followed by hypomania (a mild form of mania), and finally mania.
Most people with manic-depressive illness can be helped with treatment from a psychiatrist, psychologist or psychiatric social worker in combination with appropriate medication. Family and friends of people with bipolar disorder can also benefit from mutual support groups.
Source
---
What is Panic Disorder?
Researchers estimate that millions of Americans suffer from Panic Disorder, characterized by "panic attacks," episodes of intense fear and frightening physical symptoms that come on suddenly in the absence of any real threat. Often, they withdraw from everyday situations, not knowing what will trigger another panic attack.
Fortunately, proper treatment can usually relieve panic disorder. The National Institute of Mental Health has found psychotherapeutic medications and cognitive-behavioral therapy to be most effective. However, panic disorder often goes undiagnosed for various reasons: its symptoms mimic those of other ailments; people feel embarrassed to seek help; or patients downplay the emotional component of the attacks which are important for an accurate diagnosis.
Symptoms of panic attacks can include: racing heartbeat; chest pain; difficulty breathing; dizziness; nausea; chills or hot flashes; sweating; shaking; tingling or numbness; distorted perception; fear of dying; and a sense of impending doom. If you think you are experiencing panic attacks, see your physician.
Source
---
Anxiety Disorders
Everybody knows what it's like to feel anxious--the butterflies in your stomach before a first date, the tension when your boss is angry, the way your heart pounds if you're in danger. Anxiety rouses you to action. It gears you up to face a threatening situation. It helps you cope. But anxiety disorders cause this normally helpful emotion to do just the opposite. More than just "nerves," anxiety disorders are illnesses that can disrupt your life. They are often related to biological makeup and life experiences, and frequently run in families.
There are several types of anxiety disorders. Generalized Anxiety Disorder causes exagerrated worry about everyday issues. Panic Disorder triggers episodes of intense fear that strike without warning. Phobias are irrational fears about specific things or situations. Obsessive-Compulsive Disorder produces stressful thoughts and ritualistic behaviors. Post-Traumatic Stress Disorder is a debilitating condition that follows a terrifying event.
Your physician can evaluate symptoms of anxiety to determine whether treatment is necessary. Medication and/or therapy relieve many anxiety disorders.
Source
---
Key Features of Obsessive- Compulsive Disorder
Obsessive-compulsive disorder (OCD), one of the anxiety disorders, is characterized by several key features starting with obsessions, which are unwanted ideas or impulses that continually well up in the mind of the person with OCD: for example, the persistent fear that harm may come to self or a loved one or an excessive need to do things correctly or perfectly. In response to their obsessions, most people with OCD resort to repetitive behaviors called compulsions, of which washing and checking are the most common.
In many instances, people with OCD show a range of insight from recognizing that their obsessions and compulsions are senseless to strong belief in their validity. Many OCD victims are able to control their symptoms for periods of time. When their resistance weakens they are plagued with shame and secrecy in an attempt to hide their disorder.
OCD can be successfully treated by the use of medication or behavioral therapy or both. Which therapy to use should be decided by the individual patient in consultation with his or her therapist.
Source
---
What is Depression?
Depression is a common and costly mental illness which affects approximately 17.6 million Americans each year. It's more than the blues, yet much of the population still views it as a personal weakness or a character flaw. Depression affects mood, thought, body, and behavior.
Some people have one episode in a lifetime; others have recurrent episodes. If the symptoms of depression last for two weeks or longer and are severe enough to interfere with normal functioning, an evaluation for clinical depression by a qualified health or mental professional is recommended.
Some people mistakenly try to reduce their depressive symptoms through alcohol or other mood-altering drugs. While such drugs may provide temporary relief, they can lead to dependence and the life problems that come with it.
With proper treatment, up to 80% of those suffering from depression can improve and return to daily activities. If you think you may be suffering from depression, your physician can discuss your symptoms with you and guide you to the appropriate source of treatment.
Source
---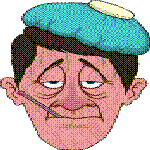 Depression and Medical Illnesses
Having a physical illness can cause you to feel "down" or sad. But if the sadness is severe or long-lasting, there may be an unrecognized link: clinical depression co-occurring with a medical condition. Clinical depression is estimated to occur in up to one-third of medically ill people.
Depression and medical illness may occur together for different reasons: medical disorders may contribute biologically to depression; ill people may become depressed as a psychological reaction to the prognosis, pain and incapacity caused by the illness; or the two illnesses may be unrelated. Depressive symptoms may also develop as a side effect of medication. It is important to discuss your symptoms with your doctor so that an accurate diagnosis can be made.
Treatment of co-occurring depression can have a positive effect on the course of the medical illness, particularly when it improves a person's ability to manage chronic illness such as diabetes and heart disease. In addition, it can significantly enhance an individual's quality of life.
Source
---
Links to Other Sites
Internet Depression Resources List
The Good Health Web Home Page
Center for Mental Health Services Home Page
Go to Top
---
You are visitor

04/30/02