Welcome to the Crafty Corner Picket Fences web site
Bring the outside inside with our beautiful Handpainted Picket Fence Screens!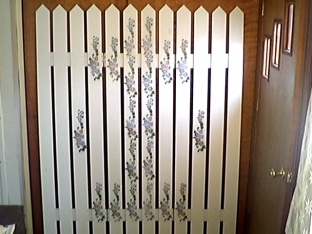 They look great in a bedroom or in any room! Can even be used to replace the sliding door on a closet! Our screens are solid wood and come in two different sizes.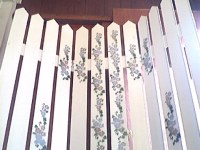 Screens come in two different sizes and include your choice of color themes and designs.
We also carry screens which are created and treated for outdoor use. They add a stunning look when lined around your garden or patio! E-mail us for price quotes on special orders which are always welcome! Click below to check out our screens, accessories, linens and furniture.
COPYRIGHT 2001 BY CRAFTY CORNER PICKET FENCES
THE TRUTH ABOUT MAKING MONEY ON THE INTERNET WHILE AVOIDING THE SCAMS!