....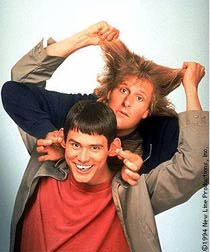 dd_annoy.wav(127 KB)
Lloyd: Hey, wanna hear the most annoying sound in the world? eeeeee...
dd_food.wav(53 KB)
Harry: We got no food, no jobs, are pets' HEADS ARE FALLIN' OFF!
dd_loser.wav(52 KB)
Lloyd: You are one pathetic loser!
dd_off.wav(17 KB)
Lloyd: I was way off.
dd_owls.wav(79 KB)
Harry: Nice set of hooters you got there...
Mary: I beg your pardon...
Harry: The owls, there beautiful!
dd_prfct.wav(133 KB)
Lloyd: Pardon me Mr. PERFECT! I guess I forgot that you never ever make a mistake.
dd_sboy.wav(22 KB)
Lloyd: I desperately want to make to love to a school boy.
dd_sniff.wav(189 KB)
Harry: OK gang, you know the rules: No humping, no pushing, no sniffing hinees.
We welcome all comments and suggestions.

Maintained and designed by Ross Cohen.
All sounds, logos & artwork contained or linked from this site retain their original copyright as owned by their respective movie production companies. All sound files are for educational, research, criticism, or review for movie purchase purposes. Ross Cohen holds no liability from misuse of these sound files.